Broadcasters, content producers and equipment manufacturers are eager to unlock the full potential of 4K and 8K broadcasts. Our Demodulator IC for satellite and cable broadcasting, part of Socionext's 4K/8K video transmission solution, makes this possible.
Newly developed 4K and 8K broadcasting services, which provide higher resolution images than the current HDTV broadcasts, represent the next major step ahead in television technology. 4K TVs are already popular – and rollout dates for 8K TVs are fast approaching.  But more intense design work is still underway since users won't be able to view the full service 4K/8K BS and 110-degree CS digital broadcasts with current 4K TVs.
Because 4K/8K broadcasting transmits signals that are 4 to 16 times higher definition than HDTV, the transmission capacity of current systems is insufficient. New standards with expanded transmission capacity are needed. The Advanced Wide-Band Digital Satellite Broadcasting (ISDB-S3) standard has been chosen for satellite broadcasting. The ITU-T J.183-based channel-bonding technology, which is an expansion of the existing format, has become the standard for cable television systems. Full service 4K/8K broadcasts can only be viewed on TVs featuring a digital demodulator compatible with these new standards.
Transmission Systems for 4K/8K Broadcasting
ISDB-S3, with multi-level amplitude-phase shift keying (16APSK) and improved error correction capability (LDPC coding), has increased transmission capacity from the previous 52Mbps to more than 100Mbps, while maintaining interference resistance comparable to that of the current BS broadcasting.
ITU-T J.183-based channel bonding technology enables 4K/8K broadcasting over existing cable television networks by dividing up massive 4K/8K broadcasting data and transmitting it over multiple channels. A receiver restores the 4K/8K data by synchronously integrating the divided data from multiple channels. This streaming method makes the linking of broadcasting and communications easier since its supports MMT and TLV, technologies that allow multiplexing of variable-length packets such as IPs in addition to MPEG 2-TS.
The Vital Role of Digital Demodulation
Digital demodulation extracts the original information-bearing signal from a desired channel's modulated carrier signal, converting it to intermediate frequency signals by a tuner and outputting broadcast stream signals. The signals received by the tuner are subject to various influences from a transmission path. The demodulator IC, in addition to recovering modulated signals, performs various signal processing, such as synchronizing frequencies and correcting distortion to output a steady stream. When such signal processing is insufficient, correct images cannot be produced in a poor reception environment. Therefore, demodulator ICs are highly important components in television.
The demodulator IC should ideally be compatible with both ISDB-S3 and ITU-T J.183 based channel-bonding technology. A small, general-purpose 7mm-by-7mm package provides digital demodulation functions for domestic terrestrial television broadcasting (ISDB-T), current BS broadcasting (ISDB-S) and cable, broadcasting (ISDB-C).  A single chip can support various forms of digital broadcasting. But – as with telephone and computer systems today - it must be as small as possible.
Since MMT and TLV were added to multiplex streaming methods, it is also mandatory to build a new evaluation system and establish a debugging method. MPEG MMT succeeds MPEG-2 TS as the media transport solution for broadcasting and IP network content distribution, with the aim of serving new applications like UHD, second screen, etc., with full support of HTML5 and simplification of packetization and synchronization with a pure IP based transport. TLV, also known as tag-length-value, is the optional information being encoded within data communication protocols. The MMT/TLV transport solutions enable clients to test on a wide range of communications services and platforms.
The Socionext 4K/8K Demodulator IC solution
One example of this kind of compact, single-chip demodulating IC is Socionext's SC1501A. The device's I/O area is consolidated by placing an SRAM on the chip's outer edges to reduce the chip size. Voltage drops caused by the high-speed LDPC processing associated with expanded transmission capacity are mitigated with double wire and core padding used for the power terminal.
Socionext 4K/8K evaluation system demodulates the big data signals distributed from satellite and cable while outputting MMT/TLV using the company's "LD20" decoder SoC.  Because there wasn't a  proven reference design incorporating MMT/TLV with a multiplex streaming method, Socionext developed the world's first MMT/TLV reference system with a debugging method. The development process was technically challenging, involving numerous, laborious hours spent testing and debugging to create a working, stable system.
Click for Related Press Announcement
Additional Socionext 4K/8K Product Offerings
The Socionext team also designed evaluation boards and a receiver equipped with the SC1501A to provide a complete 4K/8K solution. The experimental retransmission of Advanced Wide-Band Digital Satellite Broadcasting through the cable TV system using Socionext's solution will be jointly conducted by four major Japanese broadcasting and telecom companies.
Socionext has developed two prototype receivers incorporating the company's 4K/8K broadcast solution. The FEBX-101SC is for use in the cable retransmission. The FEBX-101S3 is designed for direct satellite signals. Socionext also offers prototype receivers to broadcasters and video equipment makers as reference models.
Conventional terrestrial and satellite digital broadcasting are not the only applications for Socionext's 4K/8K technology. New applications such as video distribution through Internet Protocol (IP), infrastructure monitoring and medical imaging are driving the expansion of the video transmission equipment market.
Requirements for these kinds of equipment include higher stability and lower overall system cost. To keep pace with such demands, the transition is underway from software-based to hardware-based architectures. Socionext has developed a new codec LSI to meet those challenges. The new LSI provides essential functions, such as transcoding of multiple video streams and high image quality encoding, at low bit rates.
Digital broadcasting standards are continuously evolving as satellite broadcast capacity increases and next-generation terrestrial television broadcasting grows in popularity worldwide.  As 8K technology rolls out over the next few years, the design issues and system requirements will be put to the ultimate test.  But consumers will benefit over the long term as television technology moves into a new age. Contact us to learn more.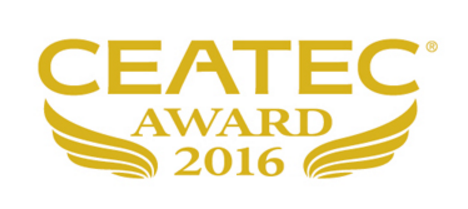 Winner of the CEATEC Grand Prix Award
Socionext received the Grand Prix of Technology and Software Innovation Award at CEATEC 2016 for its Advanced Wide-Band Digital Satellite Broadcasting demo featuring the company's demodulator IC and receiver solution.