Embedded sensing technology is increasingly ubiquitous in the consumer and industrial electronics all around us, enabling advanced control, monitoring, and safety applications in our homes and workplaces. Learn how Socionext's latest lineup of compact and ultra-low power 24GHz and 60GHz RADAR sensors are helping manufacturers meet consumer and industrial demand for feature-rich, next-generation IoT applications.
Since 2012, Socionext has partnered with device manufacturers to deliver smarter, smaller, and lower power sensing solutions utilizing our advanced 24GHz and 60GHz RF CMOS sensors. Our latest lineup of RADAR sensors features a highly integrated mmWave front-end architecture and multiple antennas in a compact package offering many advanced features.
Socionext 24GHz and 60GHz RF CMOS sensor features
Compact packages with integrated antennas – The Socionext radio sensing chips employ highly integrated designs incorporating multiple antennas. Sizes range from 7 x 7 x 0.89mm to 9 x 9 x 1mm.  These compact packages help manufacturers reduce their bill of materials (BOM) cost and shorten the typical design cycles. Incorporating multiple antennas in a single chip also provides a better azimuth resolution in a small form factor, relieving complicated design challenges for device manufacturers.
On-chip signal processing – The Socionext RADAR sensors incorporate on-chip signal processing capabilities, eliminating the need to stream data to a separate MCU.  The on-chip signal processor features sophisticated algorithms for positional detection, including the target's angle of arrival, distance, and movement.  These integrated functions reduce overall system complexity, material cost, and power consumption.
Prolonged battery life – For battery-operated devices and systems. Socionext offers sensors with ultra-low power consumption profiles (0.5 mW avg) to extend application usage time.
Interference mitigation – Socionext utilizes our specialized RF engineering expertise to mitigate interference between antennas and the potential adverse effects of package resin that could otherwise degrade sensor performance and throughput.
Sophisticated detection capabilities – Socionext RADAR sensors, when combined with software, enable the intelligent sensing of rich 2D/3D positional data, such as proximity detection, complex gesture recognition, tracking the movement of multiple people and objects, and more. Watch the video below for application demos showcasing the capabilities of Socionext's lineup of 24GHz and 60GHz RF CMOS sensors.
Socionext RADAR sensors lineup
Socionext offers a complete lineup of single-chip 24GHz and 60GHz radio-controlled distance measurement sensors with ultra-low power consumption and positional detection functionalities to address the various needs of customers. You can learn more on our electromagnetic wave sensor product page.
Sensor
Motion Detection
Distance
2D Angle
3D Motion [Gesture]
Status & Availability
Entry
Presence
SC1239
✓
✓
MP-Ready
SC1232
✓
✓
✓
MP-Ready
SC1233
✓
✓
✓
✓
MP-Ready
SC1220
✓
✓
✓
✓
✓
MP-Ready
SC1220
✓
✓
✓
✓
MP-Ready
Socionext 24GHz & 60GHz RADAR sensor design kits now available
Socionext makes it easy for you to get started incorporating our sensor technology with available design kits. Contact us for more information.
24GHz Sensor Evaluation Kit
SC1232/1233/1239AR3-B-001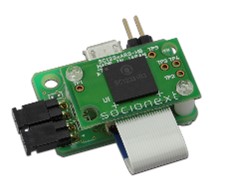 Evaluation kit hardware with USB cable (A to micro-B)
Sensor library/evaluation software (GUI)
Related documents
Evaluation software (GUI) operation manual
Specification of control API
Application note (sensor setting parameters/sample C source for API)
60GHz Sensor Evaluation Kit
SC1220AT2/1221AR3-B-001*
Evaluation kit hardware with USB cable
Sensor driver library and 3D location sensing valuation software (GUI)
Evaluation software (GUI) operation manual
Specification of control API
Application note (MATLAB and sample C source for API)
*DragonBoard is a trademark of Qualcomm Incorporated, registered in the United States and other countries.
Socionext RF CMOS sensors product brief
Be sure to check out our RF CMOS Sensors product brief describing the wide-reaching applications for smart sensor technology. The product brief covers the following topics:
Advantages of RADAR sensors versus passive infrared radar (PIR)
The future of IoT with RADAR sensing technology
Socionext's lineup of 24GHz and 60GHz sensors
Our software solution roadmap
Available design kits