Yokohama, November 14, 2017 – Socionext inc., a leading provider of SoC-based solutions for super-high definition video, has developed the world's smallest and lightest 8K / 4K compatible media player equipped with the company's proprietary 8K HEVC decoder chip. Nicknamed "s8", the media player will be offered to operators and service providers of video streaming for various applications including public viewing and digital signage, starting March 2018. With the "s8" at its core, Socionext will build a total solution covering all pathways of 8K video distribution, from encoding, transmission, decoding to display, and make proposals based on the solution to expand the use of super-high definition video for a wider variety of applications.
Socionext will participate in Inter BEE 2017 show, held at Makuhari Messe in Chiba, Japan from November 15 to 17, and demonstrate a number of solutions including the real-time distribution of 8K video utilizing the s8 media player at Hall 3, Booth 3212. Inter BEE 2017 information: http://www.inter-bee.com/en
Socionext has pioneered in developing the 8K/60p compatible HEVC decoder and ISDB-S3 digital broadcast demodulator chips and leads the industry as a provider for manufactures of advanced receiving equipment, aiming for commercial broadcasting of 4K/8K satellite broadcasting, which will start in 2018. The fifth generation mobile communication system, or "5G", is going to become available in 2020, and it is expected that more and more applications that utilize super-high definition video contents will emerge in a dramatic way.
Based on this background, Socionext has developed the media player "s8" for applications such as public viewing and signage that can make maximum use of the super-high definition and high image quality 8K video. The s8, equipped with Socionext's decoder SoC SC1400A, is capable of real-time decoding of HEVC 8K video inputs, handles not only the playback of locally stored contents, but also the live streaming of videos suitable for public viewing, such as sport events and concerts, with 8K super-high definition. The media player is also applicable to decoding of 4K video with h.264/MPEG-4 compression, and up-converting of 4K video for 8K displays with super-resolution process.
In addition, the combination of the s8 media player and the 8K HEVC real encoder system, built with four units of 4K/60p HEVC encoder MB86M31 SoCs, enables the delivery of total solution of 8K video distribution, with Socionext's products and technologies covering essential requirements over the all pathways from encoding, transmission, decoding to display. At the Inter BEE 2017 show held at Makuhari Messe from November 15, Socionext will introduce the 8K video distribution and other advanced audio and video technologies and solutions, including virtual 22.2ch sound and 4K HEVC real-time encoding/decoding.
Main Specifications of "s8"
Size                   410mm (W) x 220mm (D) x 60mm (H)
Weight               2.5kg
Video Codec      8K: H.265/HEVC 4:2:0 10bit, 4K: H.264/MPEG-4 4:2:0 10bit
Audio Codec      2ch / 5.1ch / 22.2ch AAC-LC 16bit 48kHz
Container           TS/MP4/MMT (Optional)
Resolution          8K (7680 x 4320)/60p, 4K (3840 x 2160)/60p
Video Output      HDMI2.0×4ch
Audio Output      3.5mm Stereo, S/PDIF, I2S (for 22.2ch)
Memory              External USB memory
                          (15-minute HEVC 8K video can be stored on a 16GB memory)
Power Supply     50W
Other                  Up-conversion of 4K to 8K
Sample Price      2,500,000 JPY (please inquire for actual sales price)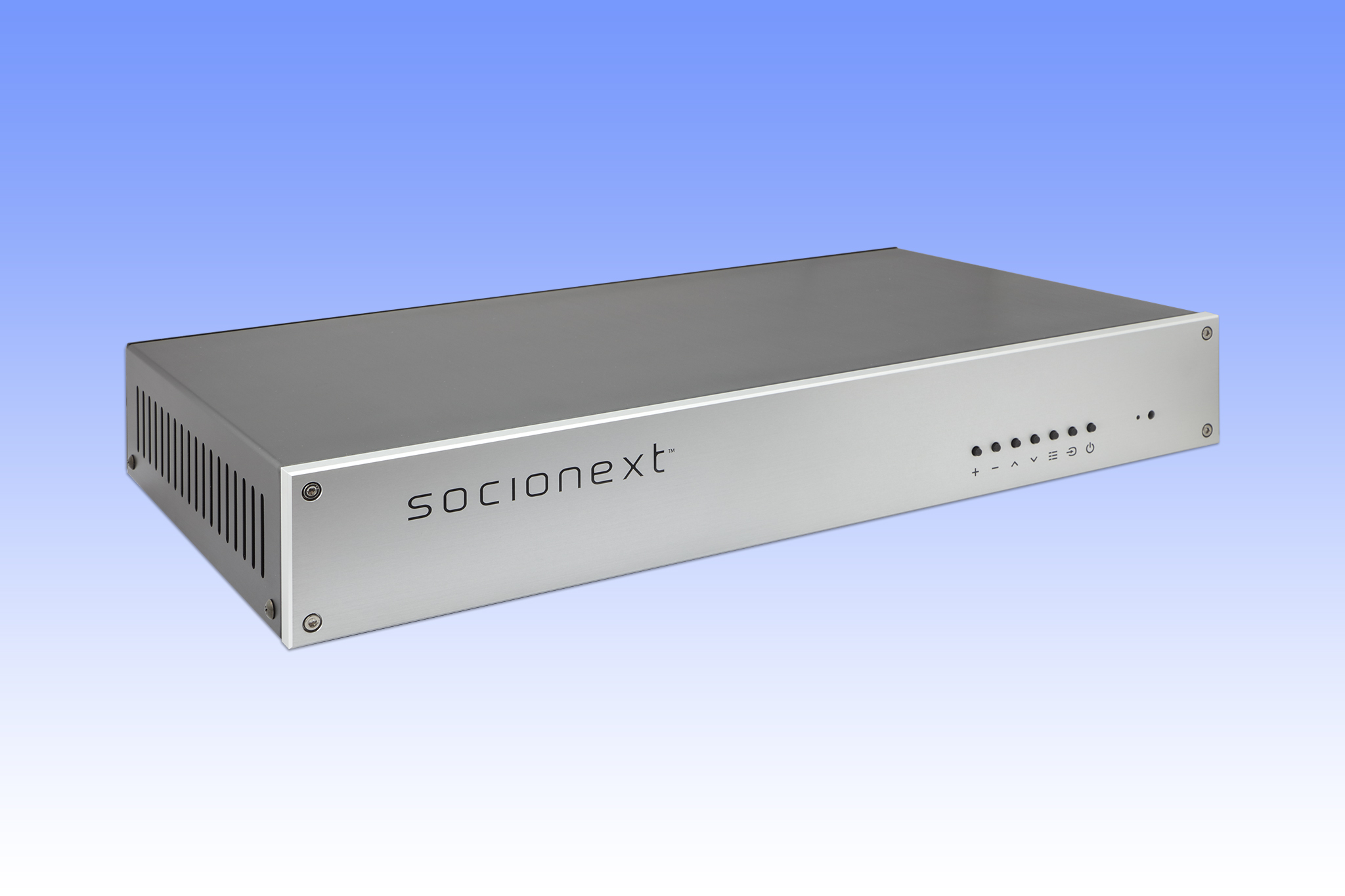 About Socionext Inc.
Socionext is a new, innovative enterprise that designs, develops and delivers System-on-Chip products to customers worldwide. The company is focused on imaging, networking, computing and other dynamic technologies that drive today's leading-edge applications. Socionext combines world-class expertise, experience, and an extensive IP portfolio to provide exceptional solutions and ensure a better quality of experience for customers. Founded in 2015, Socionext Inc. is headquartered in Yokohama, and has offices in Japan, Asia, United States and Europe to lead its product development and sales activities.
For product information, visit our website, e-mail [email protected] or call 1-844-680-3453. For company news and updates, connect with us on Twitter, Facebook and YouTube.
All company or product names mentioned herein are trademarks or registered trademarks of their respective owners. Information provided in this press release is accurate at time of publication and is subject to change without advance notice.