New SC2M50 Designed for a Wide Range of High Image Quality Data Processing Needs for
Professional Audio and Video Applications

SUNNYVALE, Calif. April 11, 2017 – Socionext Inc., an emerging leader in advanced SoC based video and imaging solutions, today introduced the SC2M50, a new HEVC / H.265 Codec IC. Sample shipments will start in May 2017. Socionext will demonstrate the SC2M50 at the NAB show in Las Vegas, April 24-27, at booth SU13712 in the South Hall's upper level.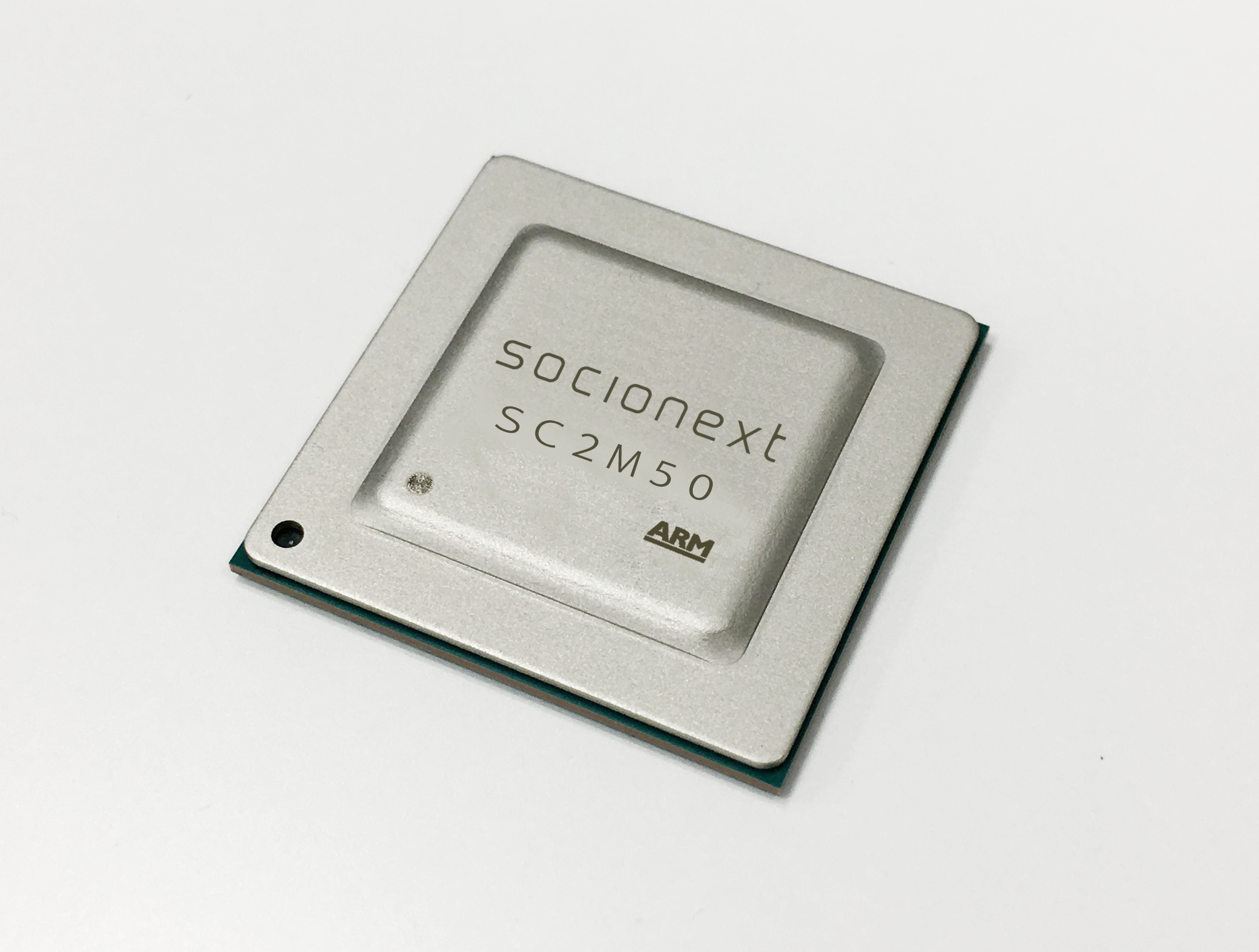 Socionext delivered the world's first 4K/60p HEVC real-time video encoder, the MB86M31 and the HEVC / H.264 / MPEG Multi-format codec MB86M30, for high-end video transmission equipment. Built on the engineering expertise gained from these new  products, Socionext has successfully implemented a high-image quality HEVC codec functionality into a small 25mm x 25mm package. The low power device consumes only 3.5W, which allows the IC to be utilized in battery-operated equipment. The SC2M50 supports 4K/60p video and 4:2:2 format, 10-bit input / output, which has excellent color reproducibility, making it suitable to cover a wide range of needs for professional video equipment, including portable devices. Samples come in May, with volume shipping in October 2017.
Socionext's partners are developing codec devices equipped with the SC2M50. At the NAB show in Las Vegas April 24-27, Socionext will have demonstrations of 4K video encoding and decoding using the latest codec devices.
About NAB Show: http://www.nabshow.com
SC2M50 Block Diagram
Main specifications of SC2M50 include the following:
Video encoding
HEVC Main, Main10, Format Range Extensions
(4:2:2 / 4:2:0, 8/10bit, up to 4K 60p)
Video decoding
HEVC Main, Main10, Format Range Extensions
(4:2:2 / 4:2:0, 8/10bit, up to 4K 60p)
Stream input / output
TS input x 1
TS output x 1
Video input / output
20bit Parallel I/F input x 4, output x 4
YUV 4:2:2 10bit up to 4K 60p
SMPTE-435(Square Division),
SMPTE ST2036-3 (2-Sample Interleave Division),
SMPTE 424M (3G-SDI),
SMPTE 274M, SMPTE 292M (HD-SDI),
SMPTE 259M-C (SD-SDI)
Audio input / output
I2S x 2
Peripheral interface
PCI express Gen 2.0 (4 lanes, Max payload size 512 byte)
USB 2.0 Device x 1
UART x 4
I2C x 3
SPI x 2
GPIO x 64
Memory interface
Serial flash interface HSSPI x 1
LPDDR4 2400Mbps 16bits x 6 (maximum)
Image processing
Video overlay (option)
CPU
ARM® Cortex-A7 Single core
Technology
28nm Process / 1,361 pin FCBGA 25mm x 25mm
Power Consumption
3.5W (Typical)
About Socionext America Inc.
Socionext America Inc. (SNA) is the US branch of Socionext Inc., one of the world's leading fabless SoC suppliers. Headquartered in Milpitas, California, the company provides leading-edge technologies and offers a wide range of standard and customizable SoC solutions. Socionext America meets customers' requirements with quality semiconductor products based on extensive and differentiated IPs, proven design methodologies, and state-of-the-art implementation expertise, with full support.
For product information, visit our website, e-mail [email protected] or call 1-844-868-1795. For company news and updates, connect with us on Twitter, Facebook and YouTube.
Socionext Inc. is a global SoC (System-on-Chip) supplier and a pioneer of a unique "Solution SoC" business model through decades of industry experience and expertise. Socionext contributes to global innovation in advanced technologies including automotive, data center, networking, and smart devices. As a trusted silicon partner, Socionext delivers superior features, performance, and quality that differentiate its customers' products and services from their competition.
Socionext Inc. is headquartered in Yokohama, and has offices in Japan, Asia, United States and Europe to lead its development and sales activities. For more information, visit https://www.socionext.com/en/.
All company or product names mentioned herein are trademarks or registered trademarks of their respective owners. Information provided in this press release is accurate at time of publication and is subject to change without advance notice.