Advanced RF CMOS Sensors for In-Cabin Driver and Passenger Monitoring Systems Deliver Ground-breaking Functional and Safety Benefits
Milpitas, Calif., Jun 8, 2023 --- Socionext, a global leader in high-precision sensor technology, will showcase its cutting-edge millimeter-wave integrated radar solutions for optimizing in-cabin automotive applications at the annual Sensors Converge Conference & Expo 2023 at the Santa Clara (Calif.) Convention Center June 21-22.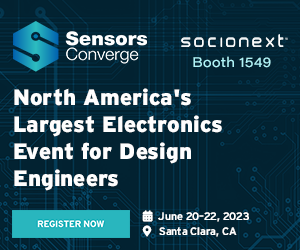 At Booth 1549, Socionext will debut its new AEC-Q100 automotive-grade qualified SC1260 Series intelligent, ultra-low-power, ultra-compact, all-in-one CMOS 60GHz radar sensors. The devices are designed to enable easy acquisition of three-dimensional (3D) positions, and feature temperature tolerances ranging from -40°C to 125°C.
One of the members of the new series, the SC1260AR3, has been nominated as a "2023 Best of Sensors Award" finalists. The SC1260AR3 comes with time-division multiplexing (TDM-MIMO) operation and multiple transmitting and receiving Antennas-in-Package (AiP) that can very accurately detect the position and movement of multiple passengers in a vehicle.
The new SC1260 Series offers a broad range of benefits for automotive applications, including:
60GHz radar sensors for high-precision occupant detection and infant wellness monitoring.
The device is explicitly designed for high-precision in-cabin sensing with TDM-MIMO, enabling a single sensor to detect multiple passengers seated in a row. The sensor has the capability to differentiate pets from humans and monitor vital signs such as heartbeat and respiration. Such technology is especially significant when infants and pets are left or forgotten in poorly ventilated or hot cars. Since radar can penetrate through solid non-metallic material, the technology can detect infants wrapped in blankets or hidden from view.
Anti-theft measures and monitoring of abnormal occurrences surrounding the vehicle, including pre- and post-collision video recording.
Radar has the capability to sense suspicious activities in and around the near field of a vehicle, then activate a dashcam to initiate recording. The ultra-low power sensors also can be useful in a vehicle that is parked and may be prone to hit-and-run incidents. While conventional camera systems record an intrusion or a collision only after they take place, new automotive dashcam systems using Socionext's radar sensor can detect incoming vehicles and record an incident prior to the occurrence. The device is capable of 24/7 uninterrupted operation using a mere ~1mW of power.
Advances in touchless hand gesture control using the latest radar technology.
Socionext's smart sensor offers 3D hand gesture recognition to operate in-vehicle displays and infotainment systems.
As the demand for high-precision, multi-functional automotive systems continues to grow, radar sensing technology products offered by Socionext provide a broad range of features and benefits for improving vehicle occupant safety and enhancing a car owner's overall driving experience.
Register to attend the event on https://www.sensorsconverge.com/sensorsconvergecom/register
To learn more about Socionext's lineup of smart sensors, visit http://socionextus.com/radar
Related Press Releases
About Socionext America Inc.
Socionext America Inc. (SNA) is the US branch of Socionext Inc., one of the world's leading fabless SoC suppliers. Headquartered in Milpitas, California, the company provides leading-edge technologies and offers a wide range of standard and customizable SoC solutions. Socionext America meets customers' requirements with quality semiconductor products based on extensive and differentiated IPs, proven design methodologies, and state-of-the-art implementation expertise, with full support.
For product information, visit our website, e-mail [email protected] or call 1-844-868-1795. For company news and updates, connect with us on Twitter, Facebook and YouTube.
Socionext Inc. is a global SoC (System-on-Chip) supplier and a pioneer of a unique "Solution SoC" business model through decades of industry experience and expertise. Socionext contributes to global innovation in advanced technologies including automotive, data center, networking, and smart devices. As a trusted silicon partner, Socionext delivers superior features, performance, and quality that differentiate its customers' products and services from their competition.
Socionext Inc. is headquartered in Yokohama, and has offices in Japan, Asia, United States and Europe to lead its development and sales activities. For more information, visit https://www.socionext.com/en/.
All company or product names mentioned herein are trademarks or registered trademarks of their respective owners. Information provided in this press release is accurate at time of publication and is subject to change without advance notice.