Socionext has developed a "3D surround sound technology" for generating an life-like, immersive experience in the reproduced sound with full utilization of spatial acoustics technology. When applied to gaming devices and digital signage equipment, this technology enhances a sense of presence in the game and also increases the effectiveness of signage advertisements, thereby creating added value in customers' products. Globally renowned manufactures have also adopted the technology into their gaming software products.
Features
Provides listeners an amazing sense of presence as if the sound source was in closer proximity
Controls the direction of the sound coming from the speakers with just the front speakers
No hardware modifications required as the play back sounds was processed using a 3D sound authoring tool
Applications
The technology can be applied to a wide range of products such as gaming consoles for home-use, gaming devices, digital signage equipment, and arcade games.
Gaming Devices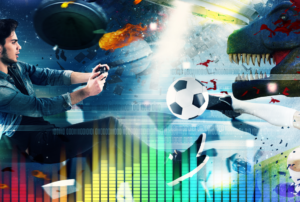 Digital Signage Equipment
How Does it Work?
User only needs to process a sound object into a 3D sound object to obtain the 3D surround sound effects
Socionext will provide the 3D sound authoring tool custom-tuned to suit customer's reproduction equipment.