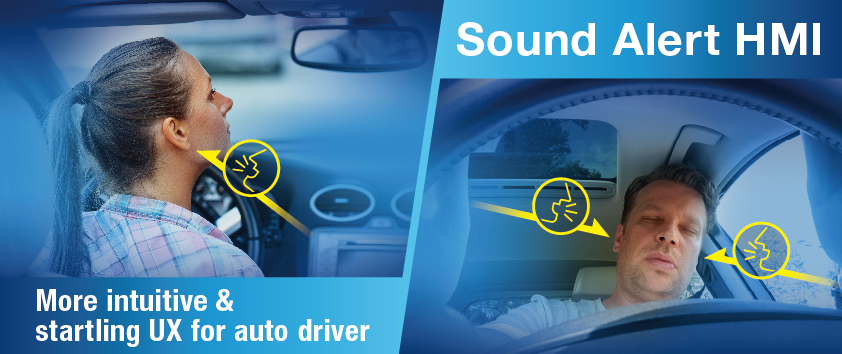 Socionext's 3-D acoustic surround technology delivers state-of-the-art UI (User Interface) to aid in driver safety with sound localization control for in-vehicle applications such as driver's assistance and infotainment system to help vehicle operators receive intuitive directions and alert for unexpected occurrences.
Features
"Close-to-Ear effect" generated by the software helps drivers feel as if there are speakers just around ears.
Off-line processing using "3D Authoring Tool" without the need for dedicated speaker or DSP.  It can be cost-effectively implemented into a wide range of vehicles regardless of model or make.
Robust sound localization technology is available to control any form of in-vehicle speaker configurations or conditions such as asymmetric speaker layout or acoustic reflections.
Conventional Method
Sound Alert HMI for IVI System
Applications
ADAS (Advanced Driver-Assistance Systems)
When other objects are approaching from the blind area, driver can intuitively perceives its direction with the "Close-to-Ear" effect sound. Also applicable to car navigation system.
Driver Monitoring System for added safety
When driver is feeling drowsy or fatigued, the "Close-to-Ear" sound effect can alert the driver to wake up.
How Does it Work?
Simple off-line processing for creating the 3-D sound effect
Socionext offers custom-tuning support on the "3-D Authoring Tool" for each targeted vehicle model