Connecting Everyday Objects to the Internet of Things
Today, digital equipment is increasingly being connected to cloud services, a phenomenon known as the Internet of Things (IoT). This direct integration between the physical world and computer-based systems holds the promise of improving efficiency and accuracy in a wide variety of industries. Socionext helps make that connection safe, convenient and secure. We couple a variety of circuit technologies cultivated in the consumer applications field with solutions resources—including wave sensors, recognition technology, the latest video compensation technology, codecs, stereophonics technology, and 4K graphics —to help our customers gain the value of an always-connected society. Here are some examples:
Our technology makes it is possible to extract and digitize only the information that is needed to upload a video to the cloud.
Our SoC enables simultaneous compression and recording of several TV channels, making it possible to view video any time, any place and on virtually any device, including smart phones.
Our SoC enables developers to create compact, low-power-consumption media boxes that integrate the recording, reproducing and delivery functions.
Our CMOS wave sensor, the world's smallest, can measure both an object's speed and the distance to a stationary object in three sensing modes.
Our Software solutions allows for a faster time-to-market implementation of graphical user interfaces and 3D surround audio - Example - 3D Audio Software solution
Learn how Socionext's ultra-compact and power-efficient technologies can help with your IoT projects.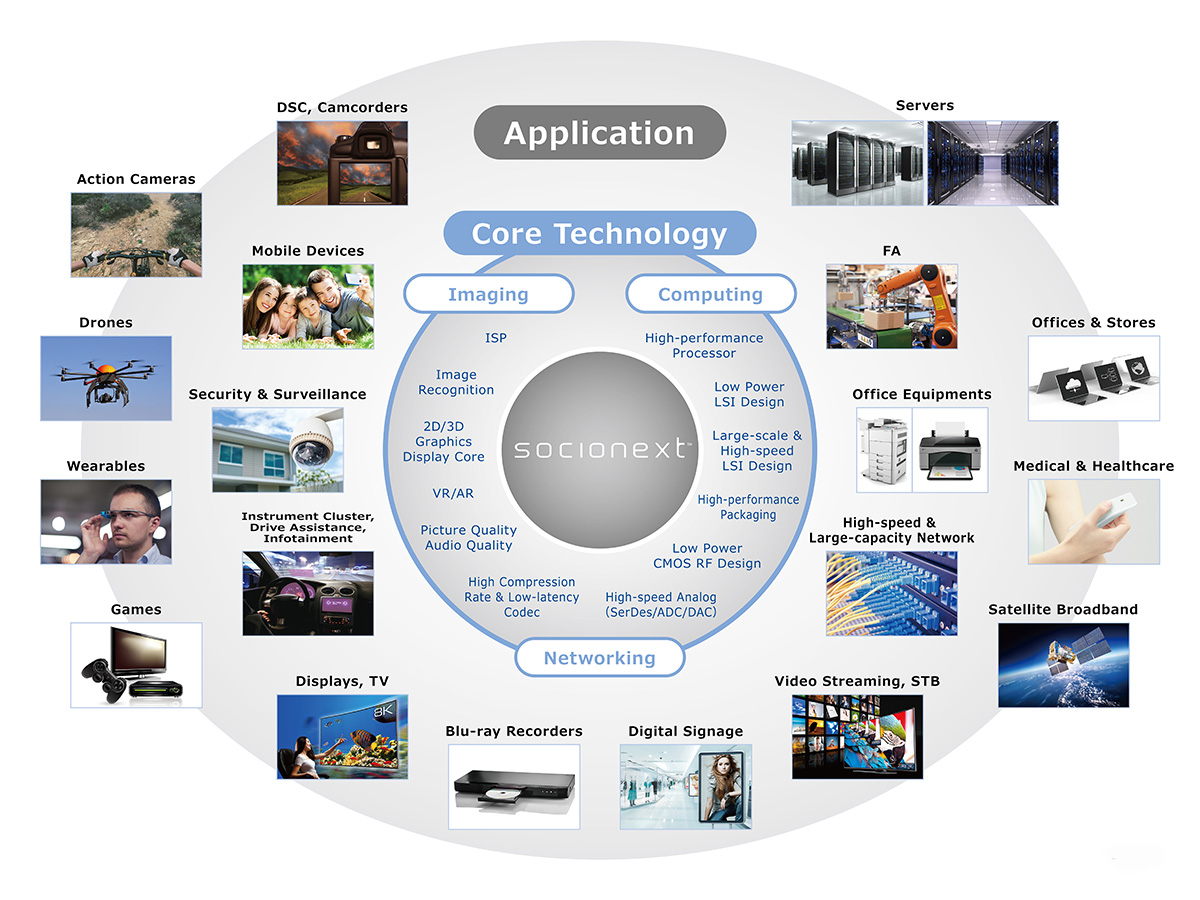 Socionext offers a highly-integrated and low-power single-chip 24 GHz radio wave IoT sensor designed to make it easy for manufacturers to add sophisticated sensing capabilities to their products. It is ideal for a wide variety of applications, including Internet of Things, smart home, security, advanced driver assistance systems, medical devices, and more
viewphii Body Composition Measurement Solution
Our viewphii body-composition measurement solution combines the latest sensing and cloud technologies to deliver a healthcare solution that measures the "unmeasurable" and shows the "undisplayable." Specifically, the technology allows customers to view realistic images of muscle and fat using ultrasound technology.