Video Equipment
Our products enable development of video-streaming, real-time video encoding and transmission equipment; head-end systems; professional production cameras and media servers.
Products
High-speed video-interface bridge (LSI HV series)
Terrestrial Broadcasting, Satellite Broadcasting and Cable Transmission
Our video-processing ICs enable video to be converted between HD and H.264 video and MPEG-2 video. (The H.264 standard is widely used in Europe, South America and Asia.) Because of their compact size, these low-power transcoder devices can be used in a wide range of products, ranging from smartphones and tablets to TVs, hard disk PVRs and PCs.
Our technology enables large video files to be quickly transmitted, so that viewers can enjoy quality video without any perceptible delays. We enable wireless communications exceeding 2 Gbps, more than 10 times the current Wi-Fi rate, with a power consumption of only 1 W. This means that large volumes of digital content can be transmitted in just a few seconds.
We support the new HDCP2.2 encryption standard, helping ensure that content is protected and securely transmitted. Finally, we enable HDMI, V-by-One® HS and HS-LVDS video to be converted into Full-HD (2K) or UHD (4K) content, enabling future generations of smart TVs.
Products
High-speed video-interface bridge (LSI HV series)
System LSIs for digital TV front-end demodulator
Multichannel RF and TS Monitoring Solution
The TS monitoring solution offers a capability to develop a digital TV monitor.
This powerful solution enables system developers to realize high-capability TS monitoring systems that support multiple broadcasting formats and up to 7 TS inputs. The system can also support a multiple decoding function for monitoring, multiple transcoding function for remote monitoring and recoding function for logging.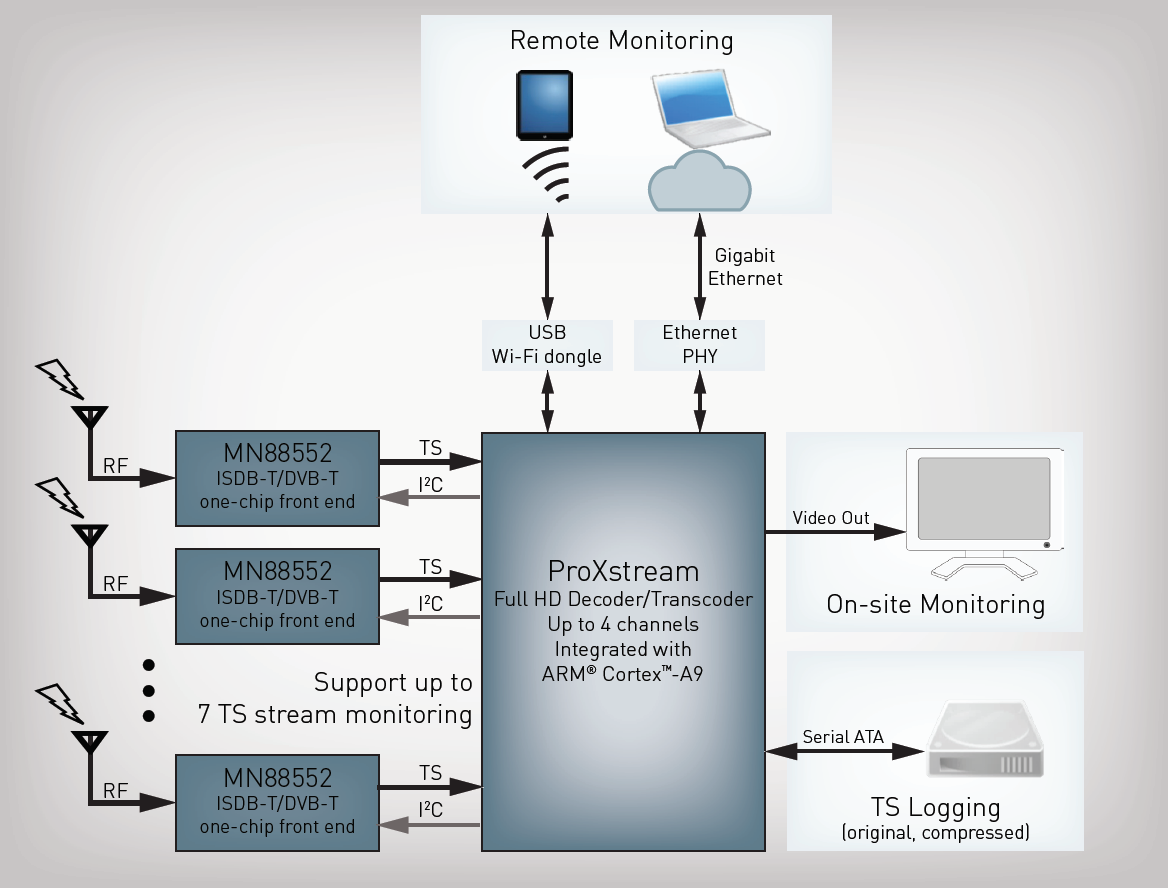 Products
Chipset (front end)
MN88552      Single-chip, front-end LSI for mobile DTV; supports ISDB-T/Tmm/Tsb and DVB-T
MN88436      Channel decoder LSI for North America, supports ATSC - MN88436 need external tuner for RF input
Chipset (back end)
"ProXstream" System LSI for high-quality, multi-channel distribution
4K / 8K TV
We provide SoCs with the industry's first, full-specification 4K decoder (60p, 10 bit) and 22.2 ch, multi-channel audio processing, and other solutions supporting the functions required for 4K TVs and networks.
We also provide all the products needed for 8K TV solutions compliant with the Japanese standard—the world's leading standard—including the receiving demodulator chips, 8K decoder chips and an ASIC for display.
Our system LSI for multi-channel video distribution can simultaneously compress and decompress 3-stream, Full-HD video data; and handle 12 VGA streams. This allows home media servers to simultaneously display different images on different media, such as TVs, smartphones, tablets and PCs. In addition, our technology up-converts video data from Full-HD to 4K2K.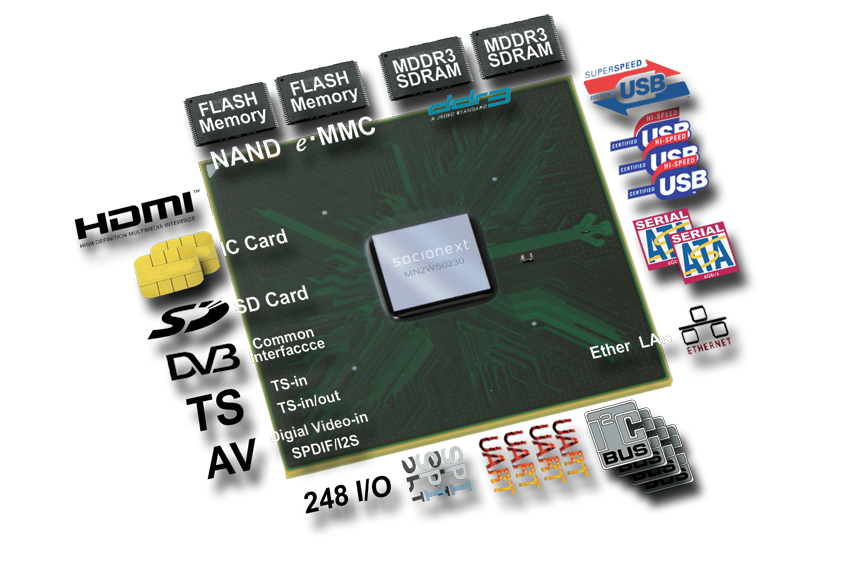 Products
System LSIs for Digital TV Front-end Demodulator
PXS/System LSI for High Quality and Multi-channel Distribution