The Socionext SC1211AU2 is a highly-integrated and low-power single-chip 24 GHz radio wave IoT sensor solution designed to make it easy for manufacturers to add sophisticated sensing capabilities to their products. It is ideal for a wide variety of applications, including Internet of Things, smart home, security, advanced driver assistance systems, medical devices, and more.
Everything around us is getting smarter. Our vehicles, the appliances in our homes, security systems, personal and medical devices, and the equipment in our workplaces. The buzzwords we've been hearing about for years now – the Internet of Things, smart homes, autonomous vehicles, etc. – are going from hype to reality.
At the heart of this smart revolution are hordes of radar sensors enabling all these devices to perceive, measure, and interact with us and their environment.
But incorporating electromagnetic wave sensors into systems can demand significant radio frequency (RF) know-how and engineering time. Manufacturers need to consider not only analog and RF antenna design, they must also come up to speed on how to measure and make sense of the sensor data. Finally, there is the challenge of incorporating sensor capabilities into their overall system designs to enable smart features.
Socionext recognizes the hurdles facing manufacturers looking to add smart sensor capabilities to their products. Which is why we have introduced the Socionext SC1211AU2 GHz radio wave IoT sensor solution. The SC1211AU2 is a highly-integrated and low-power, single-chip radar sensor designed to make it simple for electronics manufacturers and systems designers to add smart sensing functionality to their products.
The Socionext SC1211AU2 24 GHz radar sensor solution is ideal for a wide variety of applications, including IoT equipment, security systems, smart home appliances, autonomous vehicles and drones, medical devices, and more.
Socionext SC1211AU2 24 GHz Radio Wave IoT Sensor Solution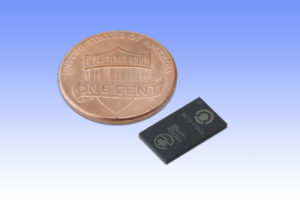 A Compact and Low-Power Single-Chip 24 GHz Electromagnetic Wave Sensor
The SC1211AU2 radar sensor integrates a variable-frequency transmitter and an ultra-high sensitivity radio wave receiver into a compact (12mm x 7mm x 1mm) 40-pin module that weighs just 0.177g.
The single-chip 24 GHz radio frequency IC (RFIC) offers multi-mode sensing capabilities for detecting stationary or moving objects and measuring the distance and direction of movement, including whether an object is approaching or leaving.
The RFIC, with a resolution up to 8cm, can sense very slow movements (like breathing, minor muscle activity, or heartbeats). The sensor can detect the movement of multiple objects within a 160-degree radius and between 0.15 and 8 meters away. Adding a radome horn, a metal shield that narrows the field of view of the antenna to work at a greater distance, can increase this range up to 30 meters. Although Socionext does not offer a complete solution in the medical device area, the versatile RFIC can be easily implemented into a wide range of medical devices with appropriate hardware and software components.
Power consumption is a critical consideration for IoT, smart home and related applications. The SC1211AU2 radar sensor consumes 500mW in continuous operation and just 80mW in one-sixth bursts. Intermittent operation further reduces the power requirements.
No Invasion of Privacy
The SC1211AU2 captures data without violating privacy. The radio waves of the contactless radar sensor easily pass through materials like fabric or resin without degrading and there is no need for the sensor to capture or display images to detect people, objects and complex activities. For applications where privacy is important, this is a key advantage over sensors using computer vision.
An Easy-to-Deploy 24 GHz Radio Wave Sensor for IoT and Smart Home Applications
Integrating a radar sensor does not need to be complicated. We designed the Socionext SC1211AU2 24 GHz radio wave sensor for fast integration and deployment.
The SC1211AU2 features a SPI interface for easy connection to a microcontroller and other digital systems. The module includes all necessary components needed for sensing in IoT and smart-home applications, including a PLL and ADCs.
Our custom API makes it simple to make use of the RFIC's CW (continuous-wave Doppler), FSKCW (frequency shift keyed continuous wave), and FMCW (frequency-modulated continuous-wave) capabilities to sense distance, direction, and relative velocity information.
Built-in functions handle complex sensing features. The device automatically detects variations in transmission power, receiver gain, temperature and other parameters, ensuring stable operations in various environmental conditions (-20C to 80C).  An included high-performance clutter cancellation function prevents direct leakage of transmission waves, ensuring highly accurate motion sensing.
24 GHz Radio Wave Sensor Applications
The Socionext SC1211AU2 24 GHz radar solution is ideal for any application requiring a compact, low-power, and highly-integrated contactless radio wave sensor. Example applications include:
Internet of Things (IoT)
Smart Home
Medical Devices
Next-Generation Smart Security
Autonomous Vehicles and Unmanned Aerial Drones
Advanced Driver Assistance Systems (ADAS)
SC1211AU2 GHz Radar Sensor – Key Features
Variable frequency width: 24.15±0.1 GHz
Multi-sensing modes: CW, FSKCW, FMCW (moving or stationary)
Transmission Power: 0.8mW
Fast frequency pull-in: 100 µs
Automatic adjustment: Built-in initial adjustment function (e.g. adjustment of RC filtering)
Power supply voltage: 2.5V
Current consumption: 200mA
Module size: 12mm x 7mm x 1mm
Learn More
Take advantage of Socionext's time-proven engineering expertise in radar technology to accelerate your time to market. Contact us to learn more about the SC1211AU2 24 GHz radar sensor solution.