Socionext is honored to receive a Technology & Engineering Emmy® in partnership with GoPro for its advanced imaging technology and innovations enabling the industry-leading HyperSmooth video stabilization found in GoPro's full line of cameras.
The National Academy of Television Arts & Sciences (NATAS) awarded Socionext the prestigious 73rd Technology & Engineering Emmy® Award in the "Camera Sensor and Software Stabilization" category. The award cites Socionext's advanced imaging ICs that power leading-edge camera systems and devices featuring outstanding video stabilization with high-quality image capture and reduced bandwidth requirements.
Socionext Milbeaut® Image Signal Processors
The Socionext  Milbeaut® line of image signal processors (ISPs) efficiently captures high-quality videos and images in low-light conditions while reducing the blurring associated with the motion of a camera or other imaging device during exposure. Key features include:
Better image quality in low light with DNR and WDR
Camera devices cannot always rely on ideal lighting. Socionext's imaging ICs feature DNR (three-dimensional noise reduction) and WDR (wide dynamic range), delivering high-quality image capture even under low light conditions.
Video HDR
To further augment low light performance, Socionext ISPs create HDR video by alternatively capturing short (60 fps) and HD exposure images (1920x1080) and merging them. This HDR video technique reduces over- and under-exposure in backlight, high contrast, or night scenes, revealing detailed and vivid video images. Video HDR supports high-speed processing for every frame, making it ideal for situations where the camera is in motion.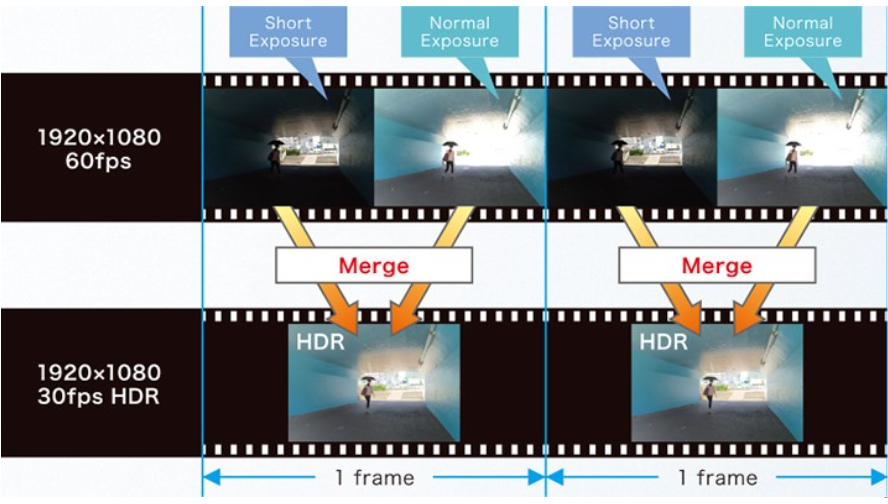 HEVC encoding for efficient video capture 
Capturing high-definition video is data intensive. Socionext's complete lineup of image signal processors features HEVC encoding for capturing high-quality video using half the bitrate of conventional H.264. The benefit reduces bandwidth and storage requirements.
Enhanced image clarity with image stabilization
Movement often means blurry or shaky video with conventional systems. Socionext's ICs feature advanced EIS (electronic image stabilization) technology with an external sensing device for smooth video capture even under unstable conditions. The EIS feature delivers outstanding video image stabilization with lower power consumption than competing solutions.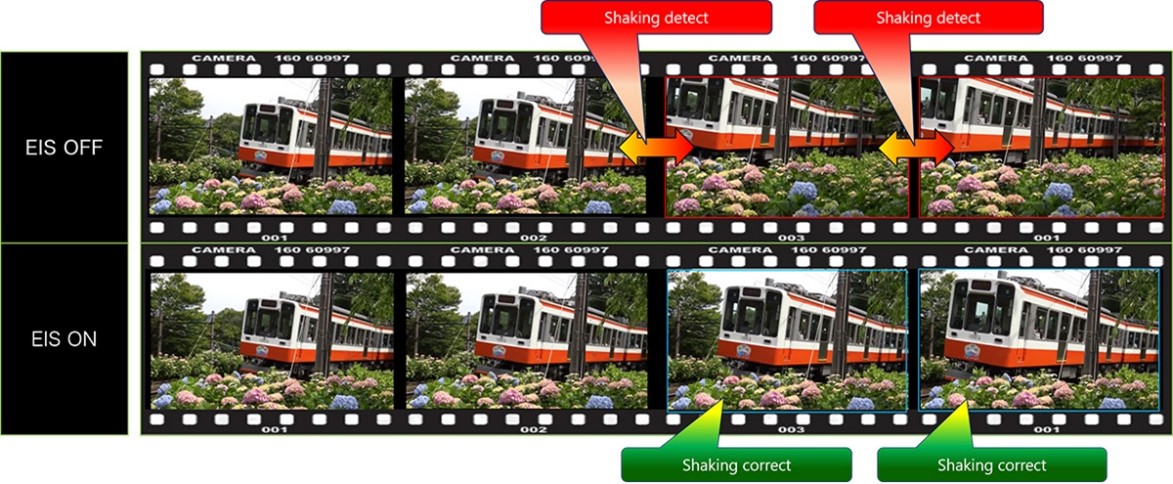 Rolling Shutter Correction
Socionext ISPs can detect and correct the partial distortion caused by fast-moving objects. This feature works alongside EIS to further enhance recorded video stability.
A host of other advanced features
Socionext ISPs offer a wide range of other advanced features, including 360-degree wrap-around video capture, haze removal, four-camera image stitching, full HD slow motion (240 fps), facial detection/recognition, and more.
Design with Socionext
Socionext has extensive engineering expertise in imaging technology. We provide our customers with quality semiconductor products based on comprehensive and differentiated IPs, proven design methodologies, state-of-the-art implementation expertise, and full support. Contact us today to get started building your next design. To learn more about Socionext imaging technologies, click here.