The automotive industry is an exciting place to be these days, with a pervasive feeling that anything is possible in the next few years. A big part of this is the rapid move toward electric and autonomous vehicles, a shift akin to the leap from horse and carriage to motorized vehicles. But other transformations are also underway as automakers implement advanced features such as automated park-assist, 3D surround view, augmented-reality heads-up displays (HUDs), in-cabin monitoring, 5G connectivity, V2X, and more.
Read on for a closer look at these transformative trends and insight into why Socionext is the ideal technology partner for automakers and OEMs looking for competitive differentiation.
The move toward electric and self-driving vehicles is speeding up
The shift towards electric and self-driving vehicles is accelerating worldwide. A recent executive order in the United States calls for phasing out new gas-powered vehicles by 2035 to lower emissions and promote electric cars. Meanwhile, global automakers anticipate spending more than half a trillion dollars on electric vehicles and batteries through 2030 to satisfy global demand to move away from fossil fuels and hit decarbonization targets.
Alongside the development of electric vehicles is a transition toward autonomous driving. The latest SAE International J3016 standard on "Levels of Automated Driving" encourages automated vehicle implementers to explore the space between Levels 2 and 3 (see the Levels of Vehicle Autonomy diagram below). With the latest advancements in sensing and processing technologies, OEMs recognize the need to enhance their Level 2 advanced driver assistance systems (ADAS) to improve passenger safety and the driving experience.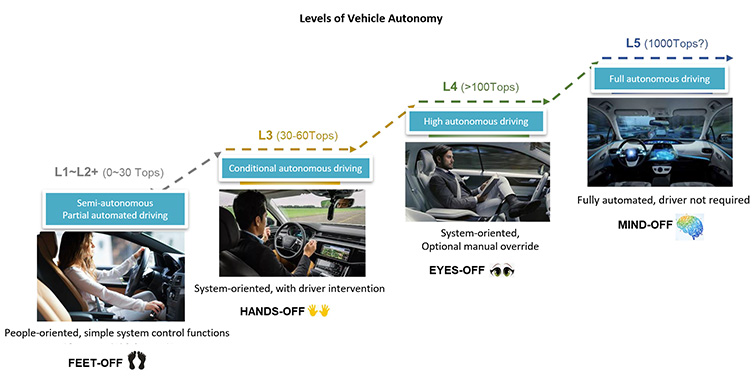 ABI Research expects autonomous passenger vehicle shipments to reach over 21 million units by 2030. Self-driving taxis (robotaxis) and Level 2+ semi-autonomous vehicles will increase the most, with 91% and 34% compounded annual growth rates (CAGR), respectively.
Developing vehicles that remove the driver from the loop, such as Level 3 systems and beyond, requires more complicated and costly ADAS systems. Therefore, Level 2+ systems offer OEMs a solid middle ground to introduce new features within the scope of today's regulatory standards without the additional liability and cost burdens that will eventually come with higher levels of autonomy. Focusing on Level 2+ systems in the near term allows OEMs to improve their ADAS system performance and reliability by integrating the latest camera, radar, lidar, and fusion technologies while evaluating driver monitoring systems for future hands-free driving systems.
Connected vehicles are bringing advanced features and monetization opportunities
The interior space of modern vehicles is also undergoing significant transformations. OEMs are implementing conveniences and enhancements to keep pace with their industry peers, including features like automated park-assist, 3D surround view, AR HUD (augmented reality heads-up display), in-cabin monitoring, 5G connectivity, V2X, and more. Connectivity plays a central role in accommodating this ever-broadening range of user preferences.
The limited capabilities within the cellular network in terms of latency, throughput, and data processing have, until recently, constrained the potential for connected vehicles. However, automakers and telecom companies are aware of the broad-based market potential tomorrow's connected car can bring. The two industries are teaming up on solutions to overcome potential constraints. The continuous rollout of 5G, the adaption of high-speed wireless connectivity (such as WiFi-6), and the transition toward distributed edge cloud computing are among the various ways to improve vehicle-to-cloud robustness and performance.
Applications requiring low latency (such as V2X) and increased data analytics (such as HD mapping) are becoming safer and easier to implement. Thanks in part to the innovations at Tesla, OEMs realize the benefits that OTA (Over the Air) firmware updates can bring to their future business models, whether to enhance vehicle performance or enable new features and services to existing platforms. Various new use cases allow data monetization opportunities for car makers following the original point of sale.
Getting ready for next-generation architectures
Technological advancements are reshaping the automotive ecosystem in ways that will force companies to adapt their future business models. To remain competitive in an evolving market, automakers must transition from a distributive ECU architecture approach toward software-defined alternatives to allow greater flexibility for expansion enabled by domain and zonal type architectures.
Both domain and zonal architectures enable greater processing power, efficiency, and throughput, resulting in a highly scalable, cost-effective platform for which auto manufacturers can deploy new features while enhancing vehicle performance and overall customer driving experience.
Domain-based architectures divide the vehicle's logical or software systems into several major domains or functional groups, including ADAS, body control, cockpit, engine, and chassis. Each domain has a central domain controller for processing and controlling data flow. For example, a cockpit domain controller may consolidate many features and functions into one or more large processors for managing multi-display features such as infotainment, cluster, heads-up, surround view, driver, occupant monitoring, and others.
Domain architecture features:
More flexible and scalable hardware and software environment
Uses a central gateway supporting safe, secure OTA
In a zonal architecture, the vehicle is partitioned into various zones with each zone, such as high-speed Ethernet, having a controller connected to a centralized vehicle controller via a backbone. Each zone controller manages the network data deployment, power, and other information required by each end node, including cameras, radar sensors, displays, etc., establishing a streamlined in-vehicle network.
Zonal architecture features:
Highest flexibility in terms of hardware and software deployment
Optimal cable and wire harnessing
Why Socionext is your ideal technology partner
At the heart of the software-defined domain and zonal architectures are high-performance SoCs (system-on-chips) consisting of a comprehensive set of IP building blocks, including multi-core CPU and GPU subsystems, AI accelerators, ADC and DACs, and others. Solution SoC provides a scalable and efficient means for meeting performance, functionality, reliability, and safety demands.
Socionext is a provider of a unique "Solution SoC" business model for the automotive and other leading markets. Our dedicated system architecture engineer team has decades of proven experience and expertise in developing and implementing highly complex SoCs.
Socionext collaborates with partners worldwide to provide and propose platforms and core technologies ahead of the curve, delivering complete solutions from system design to production and quality control. The company actively participates in the customers' development process from the early stages and provides them with the needed support to help differentiate their products according to their specific needs. Contact us today to learn more about our SoC products and services.