Socionext is honored that our "s8" 8K Media Player has been named the for DSE 2019 APEX Award Bronze Winner in the Digital-Out-Of-Home (DOOH) category!
The Socionext "s8" is a world's leading compact, lightweight, low-power media player that performs local media playback/cloud distribution of 8K@60p (HEVC) contents in real-time. Additionally, it is designed to allows for Gb Ethernet or USB 3.0/2.0 input with up to 4 x HDMI 2.0 output and features simple contents management including scheduling, status check, and contents upload with play, pause and stop control functions.
The s8 measures at a compact 16" W x 2.3" H x 8.5" D, weighs just 5.3 pounds, and operates at 50W. It surpasses the competition in its small size, low weight, and reduced power usage.
The plug-and-play s8 is available for white-label use in a wide range of applications including DOOH, gaming, entertainment and other retail applications; large-format digital displays and signage, 8K content display and post-production.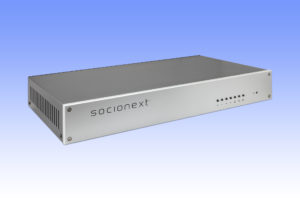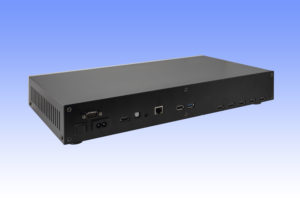 Industry-leading 8K solution : 
-  Performs local media playback/ cloud distribution of 8K/60p(HEVC) contents.
-  Capable of displaying 8K contents on four 4K-monitors as well as a 8K-monitor.
Rich 8K content playback function :
-  Supports playback of contents saved in USB memory, and cloud distribution of contents over Ethernet.
Easy to use : 
-  Easy to set-up and operate with simple GUI and front operation panel.
-  World's leading*1 compact and lightweight media player powered by Socionext's 8K decoder LSI.
*1:  As determined by our company study, conducted in November 2017
"s8-c21" Companion Converter Box
As 8K TVs become more widely adopted, Socionext has applied the company's decades of design expertise to successfully shrink the need for four HDMI 2.0 cables into a single HDMI 2.1 cable by offering the s8 companion converter box "s8-c21", which allows for greater flexibility for TV panel makers when transitioning from HDMI 2.0 to HDMI 2.1.
The companion converter box comes with 4 x HDMI 2.0 input to 1 x HDMI 2.1 output for connection from the "s8" 8K media player. The s8-c21 is the only transmitter product on the market capable of achieving this, and offers a unique solution/workflow for production and post production in 8K.
s8 Media Player Flow Diagram
s8 Media Player + s8-c21 Converter Flow Diagram
s8 Media Player Specifications
Items
Descriptions
Decoder
Container format
MP4
Video
Resolution
7,680 x 4,320pixel
Frame rate
60fps
Codec format
HEVC (H.265)
Video signal format
4:2:0
Color depth
10/8bit (HEVC)
Bitrate
200Mbps
Audio
Codec format
AAC
Sampling frequency
48kHz
Audio channel
2ch
I/O
Audio/
Video
HDMI output
HDMI2.0 x4ch
- Video:  60Hz (YUV422, 10bit)
- Audio:  48kHz
Audio output
S/PDIF x1, L/R x1
Stream input
USB3.0 x1, USB2.0 x1, Gigabit Ethernet x1,

USB2.0 x1 (Internal)*2

Dimensions
410mm(W) x 60mm(H) x 220mm(D)
Weight
Approx. 2.4kg (w/o AC adapter)
Power consumption
50W
Power supply
AC adapter (100v to 240v)
*2:  Internal storage (optional): up to 256GB through USB memory
s8-c21 Converter Specifications
Items
Descriptions
I/O
Audio/
Video
HDMI input
HDMI2.0 x4ch
HDMI output
HDMI2.1 x1ch
Dimensions
235mm(W) x 80mm(H) x 124mm(D)
Weight
1.0kg w/o AC adapter (Approx.)
Power consumption
40W
Power supply
AC adapter (100V to 240V)