Socionext's Milbeaut series of image processors was first introduced in the year 2000 and has since gained wide popularity with multi-generational ISPs being adopted into various consumer and professional digital imaging systems including action cameras, digital single-lens reflex (DSLR) cameras, security, drones, wearables, and smartphone cameras.
As the world moves towards the direction of AR/VR wearable devices and applications requiring real-time, high-quality 360-degree imaging, it becomes imperative to have high-performance image processing capabilities with very low latency.
The Ultimate Spherical USB Camera Solutions
Socionext has developed a large array of "ready for production" 360-degree solutions for on-the-go devices. For ease of interface, Socionext has partnered with Cypress Semiconductor allowing the cameras to be connected to smartphones or PCs with USB3.0 / USB2.0 and Cypress CX3 (USB Type-C) supporting USB Video Class by Cypress EZ-USB® CX3. With the market demands for low cost consumer and high performance professional applications, Socionext worked closely to create two distinct categories with customization options.
Watch our video demo of both types of camera solutions
In the consumer space, Socionext has implemented a dual sensor solution using the M12MO chip, also called the MBG967, (16Mp30) ISP to create a 1080p30 Full HD, low cost solution that can be put into very small form factors such as cell phone accessories. With Socionext's world renowned ISP technology combined with in-house tuning expertise, the company is able to achieve optimization in the supported sensors including OV8865, IMX230, IMX258, IMX377.
For prosumer applications, Socionext uses a similar dual sensor solution with the M10V (4Kp60) ISP, also known as the SC2000, to create a 4Kp30 Ultra HD performance solution suitable for stand-alone or advanced accessory designs. The M10V utilizes the latest 1.2Gbps ISP pipeline providing unparalleled performance. Supported sensors are IMX277, IMX377, and IMX477.
Both types of designs use dual sensors with overlapping field of view (FOV) lens between 185-190-degrees. The 360-degree image starts with two separate overlapping images. The Socionext stitching algorithms recognizes the overlapping images, varying by 10-20 degrees, and blends the two images into a single contiguous 360-degree image. The location and method for the stitching algorithms differs between the two solutions.
For the consumer product, the de-warping and stitching are done externally either by a system-on-chip (SOC) such as a cell phone processor or off-line in a multitude of options like a personal computer, tablet, or even cloud-based applications.
In the prosumer product, Socionext's ISP includes both hardware and software that enables several de-warping and stitching methods as well as a standard side-by-side algorithm. Additional functionalities, such as electronic image stabilization (EIS) and advanced algorithms, are available for customization.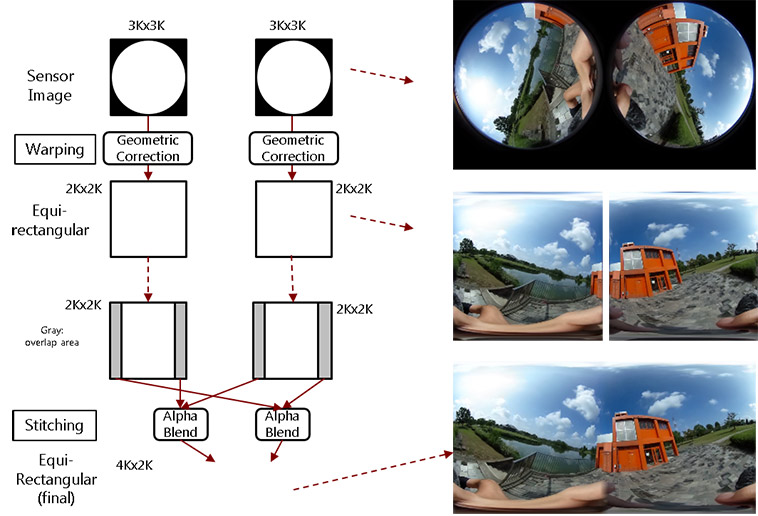 Socionext offers a high-performance proprietary image-stitching algorithm that combines two fish-eye lens images to create a zero-boundary, high definition and low noise 360-degree omnidirectional image. This feature is suitable for action cameras and drones and provides optimal solutions for applications such as video conference systems. The M10V's de-warping feature uses two 3Kx3K images and performs geometric correction plus scaling to create dual 2Kx2K square images. With the overlapped pixels along the images sides, alpha blending combines the pixels together to create the single 4K UHD (4Kx2K) output.
For both consumer and prosumer 360 camera applications, Immervision's panamorph lens and QR marker technology are options that can be included. The Immervision's panamorphic lens removes distortion that is typically seen in other dual sensor lens solutions. Their QR marker method allows for easy inclusion of data from sensor (such as gyro, accelerometer, GPS, etc.) in the source imaging to ensure smooth video output using the Immervision player.
Please contact us for more information.
*EZ-USB CX3 is a registered trademark of Cypress Semiconductor Corp. 
* Panomorph optics and image processing technology by ImmerVision