"Who is Socionext and what do you do?" are still questions we hear at tradeshows and events almost two years after our launch. We created a blog post and infographic to tell you a little about our company and products.
Who is Socionext?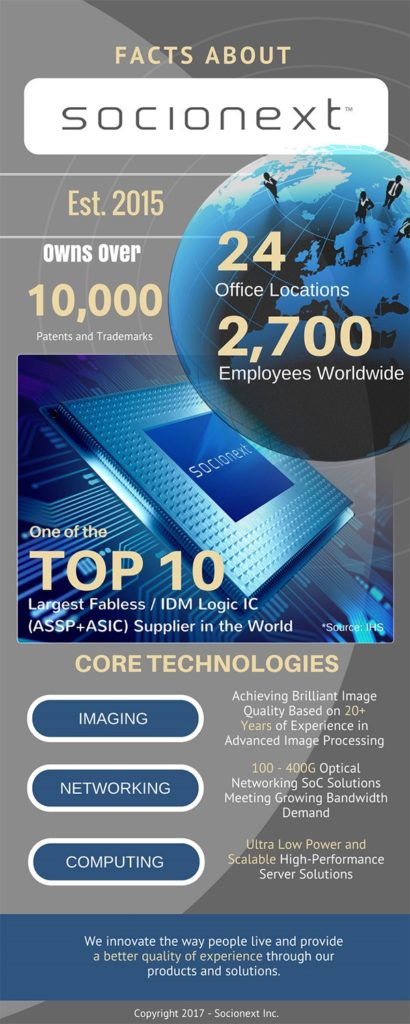 Socionext is a fabless semiconductor SoC provider. We specialize in imaging, networking, computing and other dynamic technologies that drive leading-edge applications.
Socionext was founded in the Spring of 2015 with the merger of two large Japanese semiconductor companies – Fujitsu and Panasonic. Our company combines the nimble innovation of a new venture with a deep talent pool, a track record of outstanding service and reliability, and an established (and growing) IP portfolio.
Where did the name Socionext originate?
Our company name combines the following elements:
SoC = System on Chip – our core business
I/O = Input and Output – fundamental building blocks of ICs
Next = to illustrate our embrace of a future-oriented, forward-thinking spirit
Thus, the name, Socionext.
How big is Socionext and where is the company located?
Socionext is a global company headquartered in Japan with 24 locations and over 2,700 employees worldwide. Our North American headquarters are in Sunnyvale, California.
What products and services does Socionext provide?
Socionext specializes in next-generation imaging, networking and computing technologies. Our extensive IP, engineering expertise, and standard and customized SoC solutions are suitable for a wide range of applications in the automotive, consumer, healthcare, industrial, IoT, security, telecom, networking, video, and broadcasting markets.
What makes Socionext an ideal technology partner?
Socionext isn't a household name (yet!) – and many people outside of Japan may still be unfamiliar with us. But what we hear most often from new customers is "Wow, if only I had known how great your products are, I would have reached out to you sooner!"
Socionext, as our tagline promises, is committed to providing a better quality of experience. We strive to provide innovative solutions best suited to our customers' design requirements. We don't believe in a one-size-fits all approach to technology.  We instead partner with each customer to learn their business challenges and goals, ask the right questions, listen carefully to their needs -- and then collaborate on the ideal solution.
Our customers know that they can rely on our decades of engineering expertise in hardware design and software solutions. Socionext has over 10,000 unique IPs and trademarks under our belt.
We embrace environmentally conscious practices in our product designs such as optimized energy efficiency and green business operations. We believe the smart application of technology can contribute to a better, more sustainable and advanced society.
Contact us today to find out more about our full range of high quality imaging, networking and computing solutions.