Sensor technology is everywhere today, even enabling smart bathrooms. Beneficial smart applications for the bathroom include the intelligent use of faucets, showers, toilets, lighting, and mirrors to help conserve water and energy. Sensor-powered smart bathroom technology can also enhance hygiene, an essential consideration due to the health and safety concerns related to the COVID pandemic.
Read on to learn how the capabilities of radar sensors make them the sensing solution for smart bathrooms.
Advantages of Radar Sensors for Smart Bathroom Applications
The more effective touch-free operation of lights and fixtures enabled by radar sensors is essential in a germ-filled environment like a bathroom, especially in public restrooms. Particularly in a global pandemic, people care about hygiene and prefer not to touch any surface with potential contamination.
Radar sensor technology offers the following advantages well-suited for smart bathroom applications:
Respect for Privacy
Most of the smart systems in the bathroom today use voice, mobile devices, and motion detection for system control, and many incorporate sensors with imaging technology. Although imaging is popular today, there are obvious problems with using cameras in bathrooms due to privacy concerns. No one wants to have hackers compromise their bathroom's camera systems to steal their private images. Radar sensors avoid the privacy risks inherent with camera-based sensors while also providing excellent motion detection.
Better Accuracy
Smart bathroom systems using radar sensors can detect human presence and prompt lights to switch on or off when an individual enters or exits the space. Radar technology is sensitive enough to detect subtle movements, including brushing hair, tilting the head, finger gestures, and even breathing. Contrast this precise detection with passive infrared (PIR) motion sensors that only detect significant movements. This poor detection accuracy of PIR sensors can prompt the systems to take incorrect actions, like leaving a restroom occupant in the dark.
Resistance to Environmental Conditions
Another advantage of radar sensors is that environmental conditions do not adversely impact their effectiveness, allowing them to detect objects and motion reliably. This hardiness is vital in a bathroom where heat, water, and steam are the norm. Conversely, external elements such as water condensation and residue build-up can lessen the accuracy of the current PIR sensor technology used in smart faucets, for instance.
Smart Bathroom Solutions Powered by Socionext's 24GHZ and 60GHZ Radar Sensors
Entry Motion Detection
The sensor senses a person entering into the detectable area.
Presence Detection
The sensors provide continuous sensing of human presence within the detectable region.
Looking into a mirror is part of everyone's daily grooming ritual. Imagine walking into your bathroom to your favorite music station with the mirror synchronized to your smartphone informing you of what's new while displaying your text messages, appointments, current weather, traffic conditions, health data, and other useful information.
As you approach the mirror, the light along its edges brightens automatically, giving you an enhanced view of your reflection. Additionally, built-in gesture recognition and 3D proximity range sensing enable touchless operations, including screen scrolling, station tuning, volume adjustment, and features allowing connectivity to other bathroom devices and providing a centralized control console for turning the faucet and shower on or off and adjusting water temperature.
Smart mirrors incorporating radar sensor technology can provide all the features and more to help people stay connected, entertained, and plan their day while spending time in the bathroom.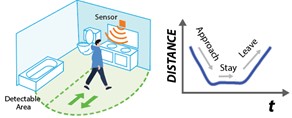 Distance Detection
The radar sensor detects human presence in the bathroom and initiates a preprogrammed routine. For example, playing music from a specific radio station and displaying a weather forecast, traffic conditions, and the day's appointments.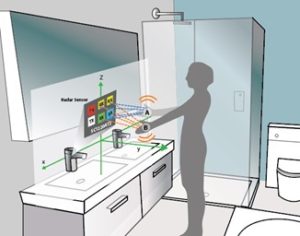 Gesture Detection
The gesture-aware algorithm of the Socionext SC1220AT2 60GHZ sensor is enabled as an individual enters within a specific range of the sensor detection area.
The sensor comes with 2TX and 4RX, allowing it to detect the angle of changes from the gesture in three dimensions on the X, Y, and Z axes. With this feature, it can recognize motion from hand gestures. For example, the sensor enables gesture control of smart mirror displays, turning showers on or off, and flushing a toilet.
Watch a video featuring the capabilities of the Socionext's all-in-one RF CMOS Sensors.