Leading hardware makers and software cloud service providers are increasingly realigning their business models to adapt custom silicon solutions to differentiate their offerings. Their motivation is partly about meeting the market's demand for smaller, highly-integrated devices. But there are also clear long-term cost savings for companies using home-grown chips instead of third-party products.
Read on for some use case examples and essential things to consider when evaluating whether a custom system-on-a-chip (SoC) approach makes sense for your product design.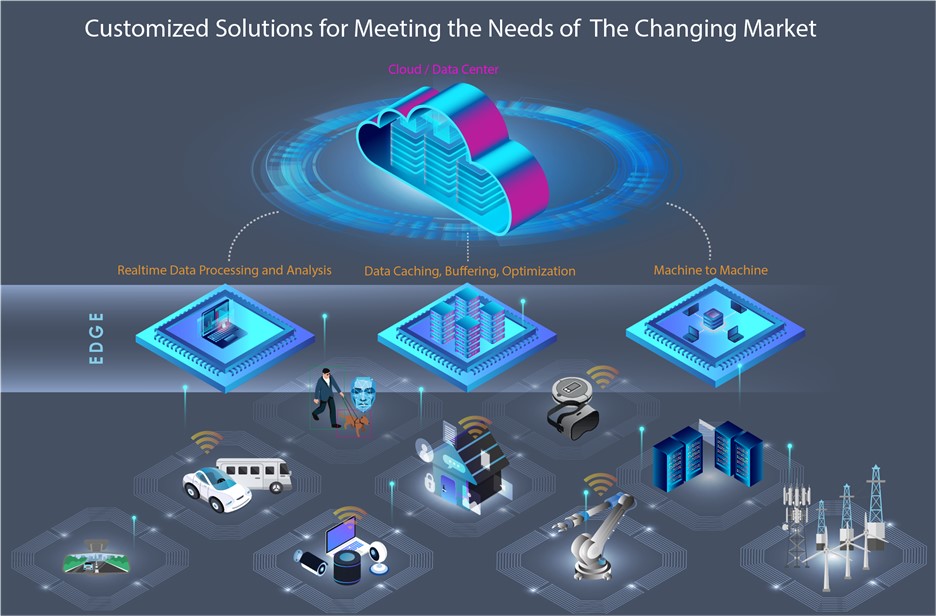 Custom SoC Use Case Examples
Several major tech companies are opting to build custom SoCs based on several strategies:
Example 1 – Building a custom hardware solution to sell bundled with the company's software.
Tesla recently announced the "Dojo" chip to train artificial intelligence networks in data centers. They designed the custom chip specifically to carry out the processing and training of algorithms by using images captured from vehicle sensors. Tesla started producing cars with these custom AI chips to enable onboard software to make decisions in response to changing situations on the road. Rather than using standard chips with inherent limitations, they built a custom chip optimized for carrying out specific operations and specialized analysis.
Example 2 – Building a proprietary device targeted at a particular market or function and locking in the end-customer to the firm's ecosystem.
Companies taking this strategy offer a proprietary device well-suited for a particular application that general-purpose devices cannot achieve as effectively. For instance, Apple announced it was moving away from Intel's x86 architecture to make its M1 processor, which now sits in its new iMacs and iPads. Meanwhile, Google is getting closer to rolling out custom central processing units for its Chromebook laptops. According to a report from Nikkei Asia, Google plans to use these proprietary CPUs in Chromebooks and tablets that run on the company's operating system starting in 2023.
Example 3 – Building hardware devices whose primary intent is to drive usage and revenue of the company's core software and services products.
Amazon, which operates the world's largest cloud service, is developing a custom networking chip to power hardware switches that move data around networks. If it works, it will reduce Amazon's reliance on standard CPUs.
Companies may alternate between or combine the above strategies according to their growth roadmap. However, regardless of a company's core capabilities, developing custom chip solutions creates a mutually synergistic relationship between its hardware and software products and, ultimately, can help increase sales and revenue by strengthening and differentiating its position in competitive markets.
What Companies Should Consider When Selecting a Custom Design Partner
Creating a proprietary chip requires a complex, highly structured framework and support system for addressing each step of the development process. Most companies seeking to design custom chips do not have the full capabilities in-house. They need help from a highly specialized partner with extensive engineering skills, in-depth knowledge, and experience to support system-level design, SoC design, software design, and mass production quality assurance.
Here is a checklist of ten things to look for when selecting a solution provider for your custom SoC design project:
They should have relevant expertise and experience creating custom silicon solutions in your industry.
Look for a proven portfolio of designs similar to your application. Ensure that they have the best-in-class IP required to make your custom SoC a success.
If your project involves development with open-source-based software or specialized operating systems and middleware, be sure that your vendor has a track record of successfully developing chips for these platforms.
Confirm that they have strong relationships with multiple tier-one foundries.
Ask about their partnerships with package, technology, and test vendors.
Seek a commitment to work side-by-side with you at every step of your design cycle, including helping you set long-term objectives. In other words, look for a partner and not just a vendor.
Find out who will be your program manager, as they play a critical role in coordinating your design project and be your primary contact.
Verify you will have a dedicated design team for your project that will work closely with you.
Find out if the vendor is fabless. Fabless semiconductor vendors can be an advantage because they do not lock you into a manufacturing partner. Instead, a fabless partner will help you select the ideal chip manufacturer based on the best process node for your custom ASIC design as well as your budget and schedule needs.
You will most likely be working with a design partner for some time, both evolving the current product and potentially on other designs. Be confident that you are picking a team committed to a long-term relationship with you. Ask about their IP roadmap and how they plan to evolve their offerings.
What Sets Socionext Apart from Other ASIC/SoC Design Firms
Socionext is a leading supplier of standard and customizable SoC solutions for automotive, consumer, and industrial markets. We provide our customers with quality semiconductor products based on extensive and differentiated IPs, proven design methodologies, state-of-the-art implementation expertise, and full support.
Traditional ASIC providers, who focus their business on logic design, often do not have the experience and knowledge to meet the cutting-edge requirements that hardware vendors are looking for to stand out in the marketplace. Customers are seeking partners who can help with Architect/Design/Implementation versus traditional ASIC implementation engagement. Likewise, it is becoming more difficult for traditional ASIC providers to keep up with the specialized  engineering resources, including expertise with ever-evolving open source software, operating systems, and middleware, required to efficiently and effectively deliver advanced application solutions.
Socionext provides you with several advantages over traditional ASIC providers. Below are some of the company's key strengths.
Comprehensive Custom SoC Offerings
Socionext offers a broad range of engineering capabilities and engagement models, including:
Serving as a one-stop vendor offering "spec-in" services to pre-define and propose the optimal combination of hardware and software technologies to achieve your required functions.
Decades of engineering experience covering circuit design, implementation, and a wide range of physical design knowledge in systems and software.
Expertise with complex system-level design, SoC design, software design, and the ability to support mass production, quality assurance, and supply chain management (SCM).
Specialty knowledge of hardware design, specification (architecture, logic) design, and software design.
A proven track record of providing control and management of outsourced foundry/OSAT.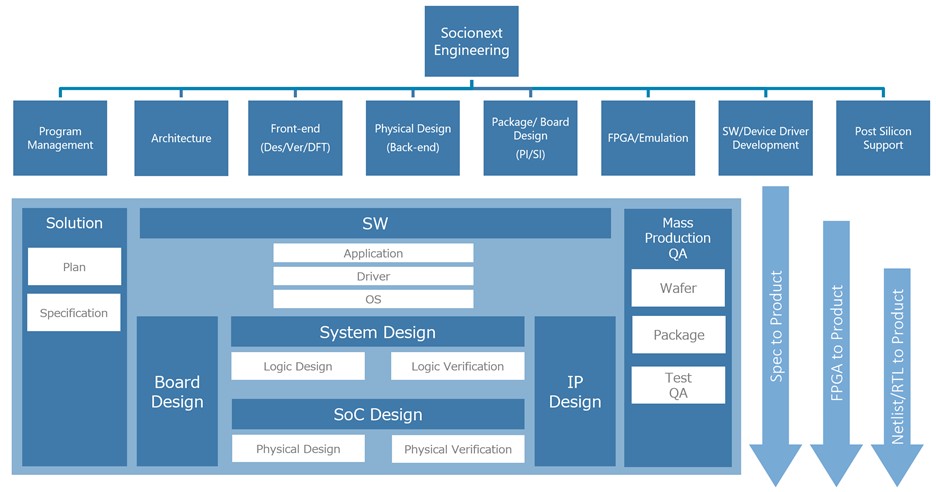 Getting it Right First Time
Leading-edge systems and products require the most advanced ASICs and SoCs. Since a well-designed custom SoC necessitates substantial upfront investments, you need to find a reliable and time-tested semiconductor infrastructure provider to ensure on-time delivery. You need your custom SoC done right first time.
Socionext is an experience global solution provider with an established track record of delivering quality products that meet our customers' most exacting and demanding next-generation requirements.
Experience with diverse 3rd party IPs and Fabs
Socionext has deep expertise collaborating with integrated device manufacturers (IDMs) and a wide range of external IPs and fabs. We can guide you through the evaluation and selection process to recommend the most suitable third-party partners to meet your design requirements.
Delivering advanced technology and IP at the leading edge
Socionext has accumulated proprietary technology assets and know-how through years of custom design experience. A few examples include:
Low power consumption solutions
Software technologies for TVs, BluRay recorders, and digital still cameras
Advanced process technologies for networks, servers, and supercomputers
IP and packages for ultra-highspeed processing.
You can count on Socionext's wide range of expertise, from IP to software to systems, to streamline and accelerate the success of your custom SoC development.
Manufacturing and quality assurance capabilities
In addition to design and development, Socionext's experience as an IDM ensures you a leg up in manufacturing, quality assurance, defect analysis, and yield improvement. The company can also provide you with the best solution for selecting manufacturing partners by identifying the optimal wafer process and packaging technologies.
Trusted Supplier
Socionext has an established track record as a trusted ASIC provider with solid financial backing. The company has successfully engaged with customers in the automotive, consumer, data center compute, and network industries, where long-term chip supply is critical.
Find Out How to Design Your Custom SoC with Socionext
Building a trusted relationship with its customers is Socionext's top priority. We listen closely to understand the needs of our customers, always striving to make our solutions as "futureproof" as possible.
Finding the right semiconductor partner is crucial as it will not only reduce your time to market but provide you with substantial cost savings in the long haul. Contact us today to start a conversation about your custom SoC needs.