ZETA Alliance Members Collaborate to Deliver Low Cost,  Low Power, Disposable IoT Tags
Cambridge, United Kingdom / Tokyo and Yokohama, Japan, June 30, 2020 ---Socionext, a global SoC solution provider, ZiFiSense, founder of LPWA (Low Power Wide Area Network) standard ZETA, and Techsor, a representative company of the ZETA Alliance in Japan, today announced the joint development and project kickoff of an SoC for ZETag, a next generation, low cost, low power IC tag. The companies plan to complete a prototype chip in 2020 and start volume production in 2021.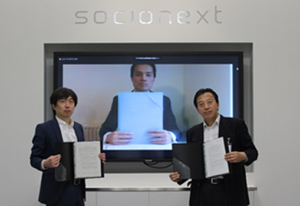 The new ZETag SoC incorporates the LPWA ZETA-G protocol proposed by ZiFiSense. With Socionext's design expertise in RF and MCU, functionalities that currently require two silicon dies can be implemented into a single SoC, resulting in significant cost, area and power savings and improved performance.
Low Cost, Low Power and High Performance ZETag with single SoC
According to IDtexEX Research, worldwide shipment of IC tags in 2018 totaling 15.5 Billion and the market is projected to reach 12 Billion US dollars by 2020.
Most of the IC tags currently in use are passive tags, which do not have their own power supply. However, active IC tags, with built-in power supply and capable of transmission of signals by themselves, are expected to become popular for more advanced applications. However, existing active tags are priced at several tens of dollars with transmission distance measuring less than 100 meters. In order for active IC tags to be utilized in a wider range of applications, lowering the cost and improving the performance are two key factors.
The ZETag is a next-generation IC tag which incorporates ZETA-G LPWA protocol proposed by ZiFiSense, and its transmission can reach several kilometers. While ZiFiSense improves the distance, Socionext, with its proprietary RF and low-power MCU technologies, will combine the RF and MCU functionalities of the tags into a single SoC,  which currently require two separate RF and MCU chips. The combined technologies will help to reduce the cost to the extent that the tags can be made into a disposable, single-use product. Concurrently, smaller size, lower power consumption and improved performance eliminate the restrictions of conventional active tags, making significant contribution to the realization of smart logistics and to dramatic expansion of applications.
The ZETags will push the boundary of IoT sensor usage, covering a wider range of applications from durable goods to consumables. Proposed applications include asset management for industrial sectors, end-to-end visualization of products and containers logistics, hazardous waste control, and medical supplies storage and waste disposal. The ZETags can also be utilized in management of building structure, warehouse inventory, and livestock. The relevant applications in the IoT solutions market can reach tens of billion dollars.
"This joint collaboration enables Socionext to leverage its expertise in advanced SoC technology and high-performance RF and MODEM designs, and incorporate them into ZETA technology to deliver cost-effective and low power products," says Teruaki Hasegawa, head of Connected Solution Team, Automotive & Industrial Business Group at Socionext. "The ZETag SoC, which is being developed together with ZiFiSense and Techsor, will create new areas of growth in various "smart" sectors including smart cities, smart medicals, smart productions, as well as smart logistics, and help achieve an affordable and rapid digital transformation."
"We believe that ZETags and relevant products represent the LPWAN 2.0, a new generation of low-cost, consumable IoT," says Zhuoqun Li, PhD, CEO of ZiFiSense. "I am delighted that we are able to co-develop the ZETag and its applications with Socionext, a leading SoC solution provider, and ZETA alliance partners around the world to realize the new, disposable IoT. ZiFiSense will introduce the new ZETags, which will be built with the SoC we are developing, into global markets including China."
"I am excited to announce the collaboration of the three companies to develop a new SoC for wide-range RF ZETag," says Qiang Zhu, CEO of Techsor. "Today the smart logistics market is growing very rapidly. I am confident that our collaboration will accelerate the adoption of IoT to logistics fields by delivering low-cost, low-power consumption and high-performance products. We will cooperate with the Alliance members and deploy the ZETags built with the new SoC to the Japanese market."
About ZiFiSense
ZiFiSense was established in 2013. It is the industry-leading vendor of low-power IoT solutions. ZiFiSense proposes ZETA, a LPWAN communication standard, and is developing the technology targeting at areas such as in-building IoT, logistics IoT and factory IoT.
ZiFiSense
+86-21-8019801
https://www.zifisense.com/
About Techsor
Techsor is a venture company founded in October 2016 and is a representative distributor of ZETA technology and relevant products in Japan. The company established ZETA Alliance with IT ACCESS, Toppan Printing, QTnet in June 2018. The alliance today consists of 200 companies globally and is jointly promoting the deployment and utilization of ZETA.
Techsor Inc.
+81-3-6803-4317
https://techsor.co.jp/
About Socionext America Inc.
Socionext America Inc. (SNA) is the US branch of Socionext Inc. headquartered in Santa Clara, California. The company is one of the world's leading fabless ASIC suppliers, specializing in a wide range of standard and customizable SoC solutions for automotive, consumer, and industrial markets. Socionext provides customers with quality semiconductor products based on extensive and differentiated IPs, proven design methodologies, and state-of-the-art implementation expertise, with full support. 
For product information, visit our website, e-mail [email protected] or call 1-844-680-3453. For company news and updates, connect with us on Twitter, Facebook and YouTube.
Socionext is a global, innovative enterprise that designs, develops and delivers System-on-Chip based solutions to customers worldwide. The company is focused on technologies that drive today's leading-edge applications in consumer, automotive and industrial markets. Socionext combines world-class expertise, experience, and an extensive IP portfolio to provide exceptional solutions and ensure a better quality of experience for customers. Founded in 2015, Socionext Inc. is headquartered in Yokohama, and has offices in Japan, Asia, United States and Europe to lead its product development and sales activities. For more information, visit www.socionext.com.
All company or product names mentioned herein are trademarks or registered trademarks of their respective owners. Information provided in this press release is accurate at time of publication and is subject to change without advance notice.