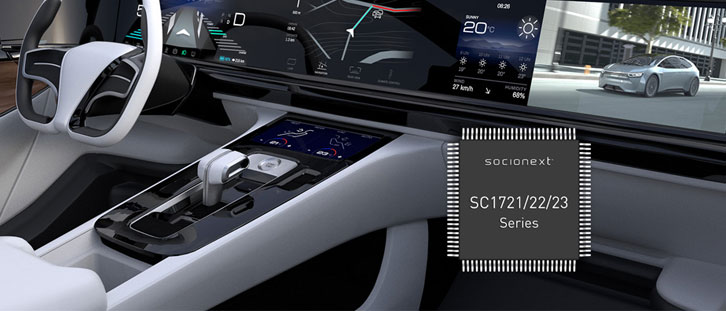 Key Features
4K resolution (3840 x 2160 @ 60 Hz / 30 bpp)
APIX

®

3 SerDes-repeater at up to 12 Gbps (supports daisy-chaining)
VESA display stream compression (DSC) with data compression up to 3.75:1
Socionext SEERIS™* 2D graphics engine
Signature unit, safety layer
Local dimming (including pixel compensation)
Distortion correction using warping-on-the-fly
CPU subsystem (Arm Cortex-M23)
Touch controller connect and audio generator
Spread-spectrum modulation for reduced EMI
AEC-Q100 support
ASIL-B support (ISO26262-compliant development process)
* SEERIS is a trademark of Socionext Inc.
Specifications
Features
SC1721
SC1722
SC1723
Package - Pin
EP-LPFQ-216
TE-BGA-437
TE-BGA-427
Package - Size
24mm x 24mm
23mm x 23mm
23mm x 23mm
Video Output
Resolution example
1920 x 1080
3840 x 1080
3840 x 2160
Video Output
Dual LVDS, OpenLDI
Dual LVDS, OpenLDI
eDP 5.4Gbps 4lane
APIX3 SerDes-repeater*
Rx : 2 x 3Gbps with HDCP2.3
Tx : 1 x 3Gbps
Rx : 2 x 3Gbps or 1 x 6Gbps with HDCP2.3
Tx : 1 x 6Gbps
Rx : 2 x 6Gbps with HDCP2.3
Tx : 1 x 6Gbps
Video Input*
LVDS, OpenLDI
LVDS, OpenLDI
LVDS, OpenLDI
Local Dimming
512 LED block
512 LED block
1024 LED block
Warping-on-the-fly
Yes
No
No
ISO26262 ASIL-B
compliant development process
Yes
Yes
Yes
* APIX3 SerDes-repeater or Video Input is exclusive depending on the line up.
Documents
Please request the following documents using the Product Inquiry form below.
Data Sheet
Hardware Manual
Register Description
Evaluation Board Manual
PCB Guideline
Product Inquiry
For more information, please complete the form below or call us at toll free +1-844-868-1795.