All-in-one RADAR sensor for Entry Motion & 2D Detection
Overview
Easy-to-use, all-in-one 24GHz radar sensor enables entry motion and distance detection without the need for external MCU. The sensor also performs angle detection with light MCU calculations.
Features
Easy to Use

Reduction of BOM using an "all-in-one" radar sensor package
Built-in autonomous entry motion and distance detection function with I2C/SPI connection
for setting configurations and data acquisition

Wide Detection Area with 2D Detection

Detection area example: >8m (*2) at front direction, 120 degrees FOV
2RX antennas capable of 2D angle detection with external MCU calculation

Suitable for Battery Operation

0.5mW average operating power for human detection applications(*3)
After sensor setup & run, MCU can sleep until something detected
System Configuration Example

Applications
Smart home
Smart Devices
Security/Surveillance
Home Appliance
Specifications
Frequency range
24.06 - 24.24GHz
Size,Package
Size: 9mm x 9mm x 1.18mm, BGA package, 0.8mm pitch, 64pin
Supply voltage
1.8V
Power consumption
average 0.5mW(*3)
Operating package
top temperature
-40 to 105°C
Output power
Tx EIRP (typ) 4.0dBm
Detection area
Preferable detection area: 8m(*1) in front direction
FOV(*1, *2): 120°
Sensor output
Motion Detection result, Distance Detection result
2ch Complex data for Angle Detection
NOTES:
(*¹): Half distance angle
(*²): Detection area depends on environmental condition
(*³): 0.1% duty cycle operation in Motion Detection mode
Usage Examples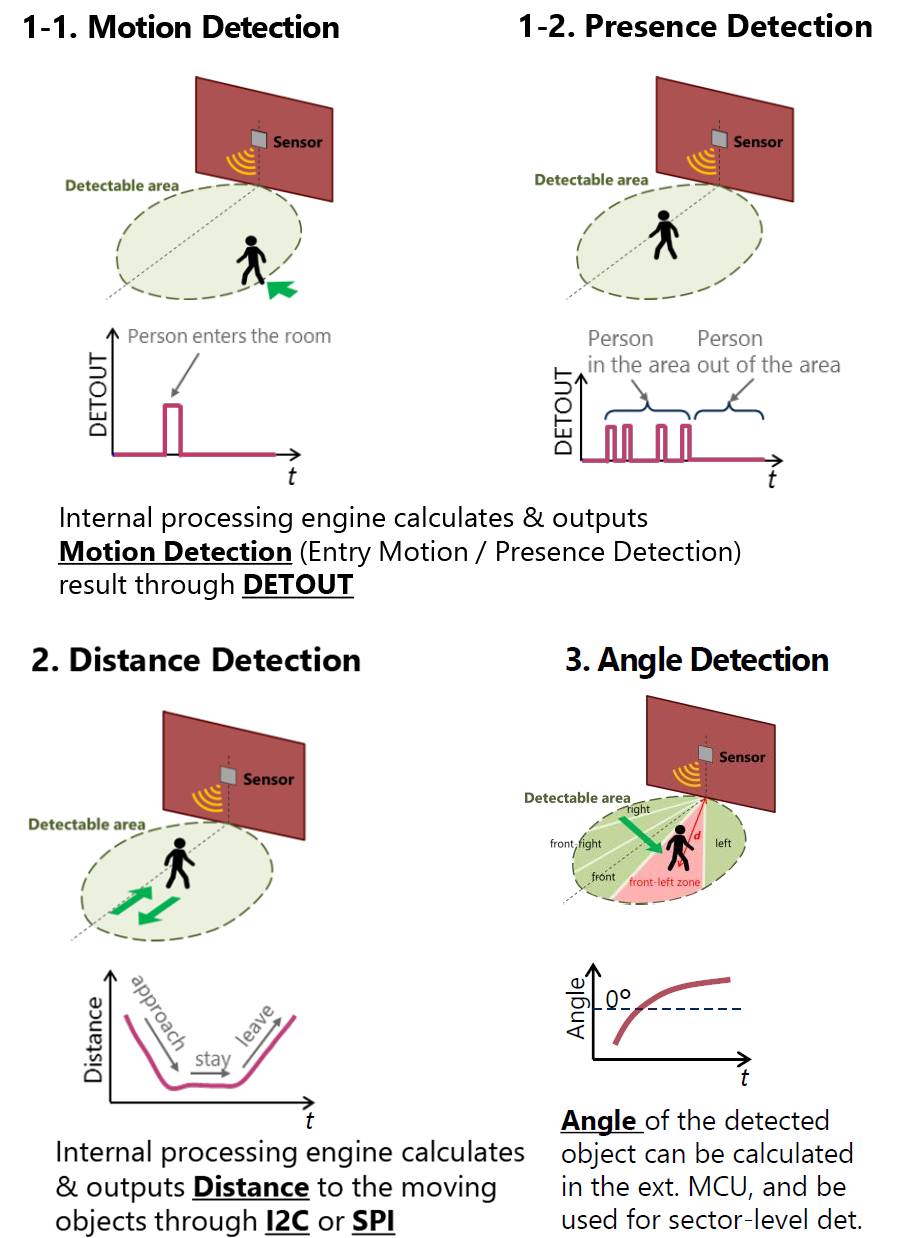 Evaluation Kit
The Evaluation Kit "SC1233AR3-B-001" provides an evaluation environment of the 24GHz Radar Sensor "SC1233AR3".
SC1233AR3 evaluation kit hardware with USB cable (A to micro-B)
Sensor library / Evaluation software (GUI)
Related documents

Evaluation software (GUI) operation manual
API specification of control API
Application note (Sensor setting parameters / Sample C source for API)
CLICK TO DOWNLOAD INFORMATION ON THE SC1233AR3 EVALUATION KIT
CLICK TO DOWNLOAD SC1233AR3 FACTSHEET
Additional RADAR Sensor products: SC1232AR3
Product Inquiry
For more information, please complete the form below or call us at toll free +1-844-680-3453.