Next Generation In-Vehicle Remote Display Controller supporting 2k resolution, High Dynamic Range and suitable for Domain Architectures
The SC1701BH5-300 features further evolved functions and performance for in-vehicle graphics display applications, supporting F-HD (2k) displays. The controller is capable of driving TCON-less displays by its integrated TCON function. To support that, the device is capable of receiving a video stream over OpenLDI interfaces.

The built-in Socionext SEERIS™ Graphics Processor provides 2D rendering with Deep Colour (30bpp) support through its entire pipeline. In addition it provides extended flexibility by its capture port through an OpenLDI input interface. Socionext paid special attention in implementing latest Automotive Safety Functions which are necessary to meet the industry's Integrity Requirements.

The SC1701BH5-300 Display Controller stands out through its Diagnostic Capabilities, the built-in Multi Window Signature Unit, its Picture Freeze Detection feature and the multi-level CRC checks.
In addition it provides Protection against illegal access enhancing the security features and data integrity.

The SC1701BH5-300 Display Controller is designed to support High Performance Domain Computing Architecture within the car, one of the most innovative evolutions in Automotive System Architectures, which enables design flexibility through scalability, increases safety and security, makes development cycles more efficient, eases the qualification processes and provides significant potential for system cost reduction.

Key Features
 2k Resolution (1920 x 1080 @ 60Hz / 30bpp)

Socionext SEERIS™ 2D Graphics Engine

Display Controller and TCON integrated

Signature Unit and Safety layer

Display Output Interfaces (OpenLDI, RSDS, TTL)

Touch Controller connectivity and Audio Generator

Wide range of peripherals for external connectivity

Spread Spectrum Modulation to reduce EMI

AEC-Q100 qualification

Support for Automotive Safety and Integrity (ASIL B)
SC1701BH5-300 Graphics Display Controller Block Diagram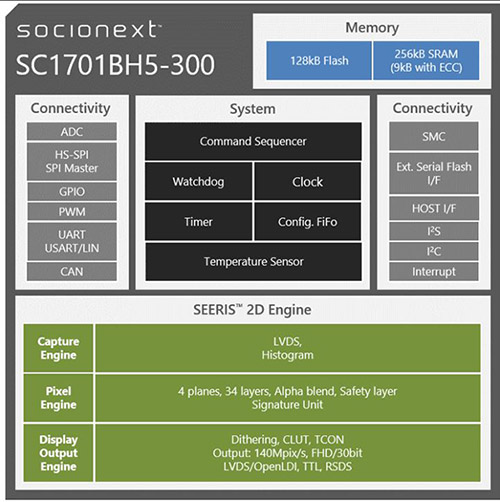 Application Example
Datasheet Download:
More information on Automotive Graphic Display Controllers (HMI)