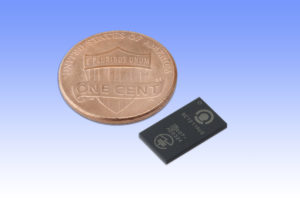 Click here to view the press announcement
Features of the "SC1211AU2 " 24GHz radar
Small size (12mm X 7mm X 1mm)
It's easy to mount in consumer product.
Slow object detection

It improves detecting sensitivity of slow movement like breath (≒0.2Hz)

Extensibility of peripheral circuit

CMOS technology realizes to include AD converter and other peripheral circuit in this RFIC
Technology
Digital assist
Beam forming, variation correction
High frequency antenna technology
CMOS high frequency circuit

(24GHz, 60GHz:WiGig, 79GHz)
Why 24GHz?
Able to detect very slight movements

Heart beat <1mm
Breath 2mm~3mm

Does not conflict with other standards like WiGig
Advantage of in-house radio wave sensor
Anonymity Sensing for privacy
Contactless

Product Applications
Feature
Typical characteristics
Description
Sensor type
CW, FSKCW, FMCW
(Support Burst)
Sensor type selectable depending on the target object
Detection of
 motion direction
Detection of approaching and leaving
motion speed
Up to 200 km/h
wide-range distance
0.15 m to 8 m , 80°@-3dB
Power consumption
80mW(1/6 Burst)
500mW(Continuous)
Intermittent operation allows operating current to be reduced.
Power supply voltage
2.5 V
The RF circuit operates at 1.2 V with the internal regulator.
RX Gain Control
29.5dB-100dB
Controllable by setting registers
Sampling Rate
200ksps(ADC)
25ksps(Others)
Output select     : ADC,LPF1,LPF2,Notch
Data decimation : 1/2 - 1/200
ARIB T73 compliant
24.15 ±0.1 GHz
Specified low-power radio stations, ISM band
High sensitivity
-110 dBm
-
Variable frequency width
24.15 ±0.1GHz(CW,FMCW)
24.15±0.05GHz(FSKCW)
Built-in VCO varactor, Frac-N PLL
Fast frequency pull-in
100 µs
Frac-N PLL
Automatic adjustment
-
Built-in initial adjustment function
Product Inquiry
For more information, please complete the form below or call us at toll free +1-844-680-3453.