As automobiles become more sophisticated, they need more and more electronic components to improve safety, increase comfort and enhance the enjoyment of the driving experience.
Socionext has a wide range of products specifically designed to excel in the harsh automotive environment. We provide the graphics display technologies for automotive multimedia systems, navigation systems and other smart displays. Our 360-degree wrap-around imaging technology helps make driving safer and more pleasant, while our HMI toolkit expedites development of embedded applications.
Contact Socionext  for more on our products and solutions for automotive HMI and ADAS .
Multimedia systems and in-vehicle smart displays
The Socionext graphics technologies and solutions help to make products such car center-console, dashboard display and rear-seat entertainment units possible.
Our graphics technology is used in high-end, embedded, graphical automotive applications such as the most demanding cluster displays (e.g., fuel consumption and tire pressure gauges), center information displays, in-car multimedia applications, graphical dashboard systems, and head-up display (HUD) units.
Display and Capture
High performance and quality 2D/3D hybrid rendering
Fluent operation at 60 fps and 32 bpp
Motion blur for fast and smooth needle movements
Enhanced feature set for display and capture control

warping on-the-fly (e.g. windshield correction)
image compression and decompression on-the-fly
safety features (signature check, display panic mode control)
scaling on-the-fly
multiple layers (alpha blend) and displays with configurable mapping
flexible pixel formats (1/2/4/8/16/24/32 bpp; any bit width per channel)
YUV support (packed, planar, 4:4:4, 4:2:2, 4:2:0, progressive, interlaced)
alpha masking for display specific color operations (gamma, signature)
various dual display modes
programmable timing generators
Products
High-performance LSI: streamlining the system of smart devices
PH1-Pro4/System LSI for high-quality, multi-channel distribution
3D Surround Sound for In-Vehicle Infotainment
The Socionext 3D acoustic surround technology delivers state-of-the-art UI with sound localization control for in-vehicle applications, such as driver assistance and infotainment systems. The soluti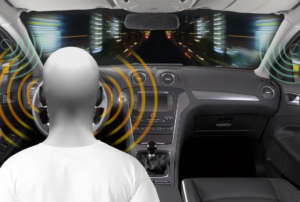 on enhances driver experience with audible navigational assistance and warns drivers of impending dangers.
Conventionally, surround sound speakers need to be symmetrically-aligned to generate 3D sounds. With Socionext's robust sound localization technology, speakers, regardless of quality, can be asymmetrically placed anywhere inside the vehicle and be able to create a life-like "around-the-ear" 3D sounds effects.
Contact Socionext to learn more.
Products
Navigation systems
The Socionext family of graphic display controllers (GDCs) is used in on-board navigation systems, including navigation-map displays. We utilize a power composite engine as the primary feature in making it possible.
Features
Advanced multilayer concept
Adjust different refresh rate for different use-cases

Moving bit maps requires 60fps
For rotating 3D models 30fps are enough
Status information can run with low frame rate

Simple content prioritization
Saves graphics performance and supports harmonic look & feel over all use-cases
Up to 8 Layers for each Display Controller
Position and size programmable
Color-Depth selectable per layer
Transparency, per-layer and per-pixel alpha-blending
Each Layer can appear in one, two or both display area
Contact Socionext to learn more.
Products
Contact Socionext to learn more.
360-degree wrap-around imaging technology
The Socionext family of graphic display controllers (GDCs) is used in on-board navigation systems, including navigation-map displays. We utilize a power composite engine as the primary feature in making it possible.
Our 360-degree Wrap-around Video Imaging technology synthesizes images from six cameras to create a true 3-D hemispheric view of a vehicle's surroundings. The technology enables flexible, omnidirectional monitoring around a vehicle. Users can selectively view images, and can even get a hemispheric view of the car and its surroundings.
The technology improves safety by providing visual assistance to the driver. The true, three-dimensional view enhances visibility while drivers are backing up, parking or turning corners. Drivers can change lanes more easily because the technology eliminates "blind spots" to a degree that cannot be matched by two-dimensional technologies.
Leading car manufacturers have already incorporated this technology into their designs.
New solutions package for 360-Degree Wrap-Around View System
Socionext's 360° WAV system comes in a package that includes the hardware, software and development support services - all essential tools to expedite the evaluation and development of the fully optimized 360-degree WAV system. Contact Socionext to learn more.
Click here for related press announcement
Product
Notice of business transfer
As of Feb. 1, 2019, ArtSpark Holdings is the owner of CGI Studio software solutions. See related press release. The transfer of the CGI Studio business will not impact Socionext's existing and future services and support.
Please contact us if you have further questions.
We speed up development of automotive clusters and infotainment systems by enabling developers to quickly design, prototype and develop Human Machine Interface (HMI) and GUIs. Developers can evaluate graphics early in the development process, using a WYSIWYG approach. Application simulation gives a solid look and feel to the visual quality.
About CGI Studio
Software development platform for 2D and 3D graphical interfaces
Hybrid 2D and 3D scene composition

Specific software design for automotive requirements

Seamless from graphical design to target hardware
Designed specifically for embedded applications (reduced memory and lower MIP environments)

Application Example: Integrated HMI


Scene Composer 2.1
Product