Milbeaut™ Image Processor "MB86S22AA"
The Socionext "MB86S22AA" series has twice the processing performance compared to conventional products.  It also features H.264/AVC compression and decompression for video capture and processing in Full HD (p30 and i60) algorithms. The MB86S22AA offers the best-quality, highest-speed image processing which is ideally suited for digital cameras makers.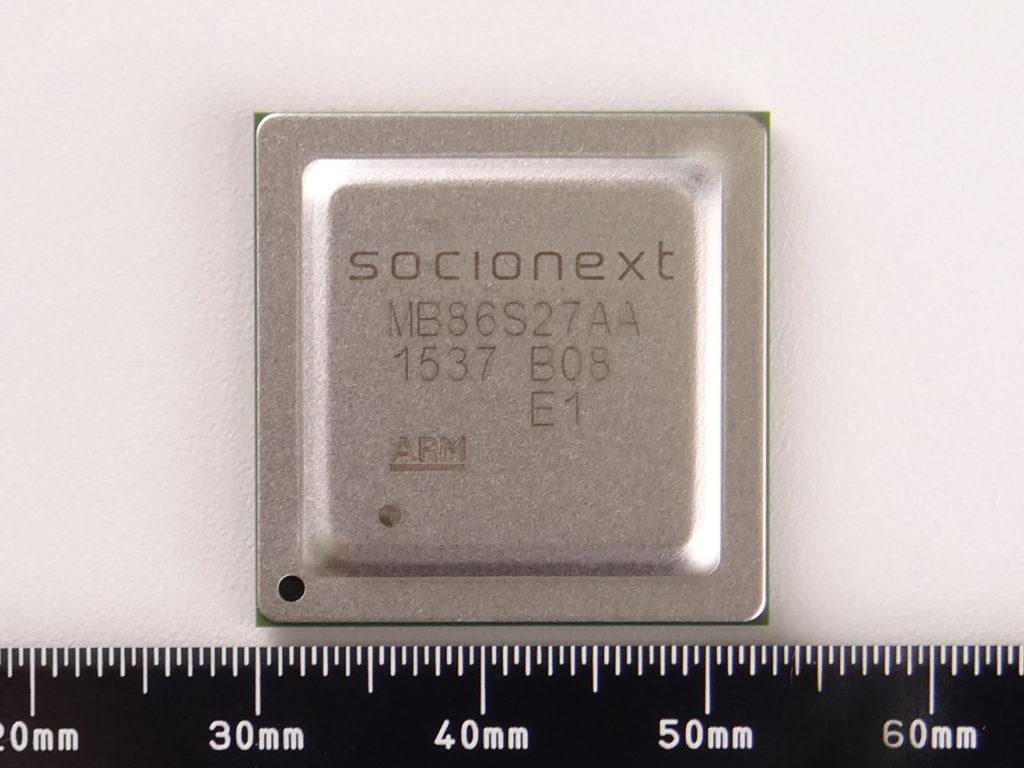 Features
Imaging processor Milbeaut M-7M Series "MB86S22AA" provides an ideal solution for high-resolution, high-performance image processing in digital SLRs and high-end compact digital cameras
Substantially building on the company's previous image processing algorithms, which boast a strong industry track record, the new chip enables roughly twice the processing performance of existing products
H.264/AVC compression and decompression in Full HD 30p and 60i video
The newly developed IIP (Integrated Image Processor) circuit increases processing speed and performance
A new image processing algorithm with greatly improved optical correction capabilities
Faster processing thanks to a newly developed Integrated Image Processor circuit
Improved high dynamic range (HDR) photograph quality using a JPEG-HDR™ format developed by Dolby Laboratories.
Video
MPEG4/AVC(H.264) High/Main Profile Level4.0 1080/i60 1080/p30
Continuous Shooting
Bayer Continuous shooting : 25Mpix/20fps
JPEG Continuous shooting : 25Mpix/10fps
Intelligent Image and Video Processing
3D Video Capture and Recording Application
Face Detection
Video Stabilization
3D Noise Reduction
Object Tracking
WDR (Wide Dynamic Range)
Scene Detection
HDR (High Dynamic Range)
Jagged or Uneven Surface Reduction
Continuous Auto Focus
[Jagged or Uneven Surface Reduction]
[HDR - High Dynamic Range]
Distortion Correction
Distortion correction can be achieved using hardware macro
[Distortion Correction]
Specifications
CPU: ARM Cortex-A5MP
Maximum image processing speed equivalent to12fps at 24M pixels
Hardware assist capable of feature extraction
Improved lens correction, lens distortion correction, lens resolution correction
Accelerated multi-frame operation
High speed and intelligent bus arbitration
ISP Process
 55nm CMOS Technology
Package Size
 Ball Pitch 0.5mm
 Body size 15mm x 15mm
CPU
 ARM Cortex-A5 MPCore(Dual Core)
Video Codec
 H.264 1080/i60, 1080/p30
Image Processing rate
 500Mpix/sec
Max Image Size
 5.8K Pixel(Horizontal)
Sensor Interface
 Parallel:12bit 1ch
 Serial: sub-LVDS 12Lane, SLVS 8Lane
Host Interface
 UART/CSIO 6ch, USB2.0 High-Speed
LCD Interface
 Composite(NTSC,PAL), D-LCD, HDMI
Card Interface
 NandFlash 1ch, SDCard 2ch
Continuous Shooting
 25M/10fps
Face Detection
 Support(Hardware)
Distortion Correction
 Support(Hardware)
Video Stabilization
 Support(Hardware)
Still Stabilization
 Support(Hardware)
Jaggy Reduction
 Support(Hardware)